Last year I was heading to an Oktoberfest party, where I knew there would be delicious German beer and fabulous food and music, and I was stumped about what I should bring. I finally settled on this German Apple Cake, and was inspired by a recipe from Little Epicurian. Their version wasn't quite what I needed, so I got a little creative with it. Mine wasn't as neat and pretty as theirs, but let me tell you — after taking the first bite I didn't care how "pretty" it looked.
This cake is salty, sweet and fruity… a combination I wasn't sure I would be into, but it turns out I'm a huge fan. I hope you are, too!
German Apple Cake Recipe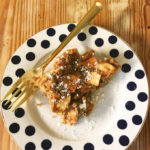 Print Recipe
German Apple Cake
Salty, sweet, delicious German Apple Cake just like my mom makes. 
Instructions
Preheat the oven to 350F.

Spray a 9x13 pan with baking spray (or butter).

In a small bowl, whisk together flour, baking powder, salt, cinnamon and nutmeg. Set aside.

With a mixer (on medium), cream the softened butter, brown sugar, and granulated sugar until combined. Add eggs (individually) and the vanilla. Mix until combined.

Slowly add the flour mixture and stir until just combined.

Transfer the batter to the prepared cake pan.

In a small bowl whisk together sugar and cinnamon. Toss the sliced apples until coated. Arrange apple slices on top of batter in desired configuration.

Bake for 1 hour, 15 minutes until toothpick inserted in center of cake comes out clean. Let cool in pan for 10 minutes. Serve warm or at room temperature. Garnish with powdered sugar or whipped cream.