These brownie mix crinkle cookies — some people call them "crackle" cookies — have to be the easiest things I've ever baked. This recipe simplifies the crinkle/crackle process by using a boxed brownie mix, which means I save time and I know they're going to be perfect.
You can use any boxed brownie mix, but I chose Ghirardelli double chocolate brownie mix with chocolate chips. Go big or go home, right?!
My favorite part of making these cookies was having Harris join in. I can say from experience that your kids will have so much fun rolling the cookies in powdered sugar and they will definitely enjoy eating them.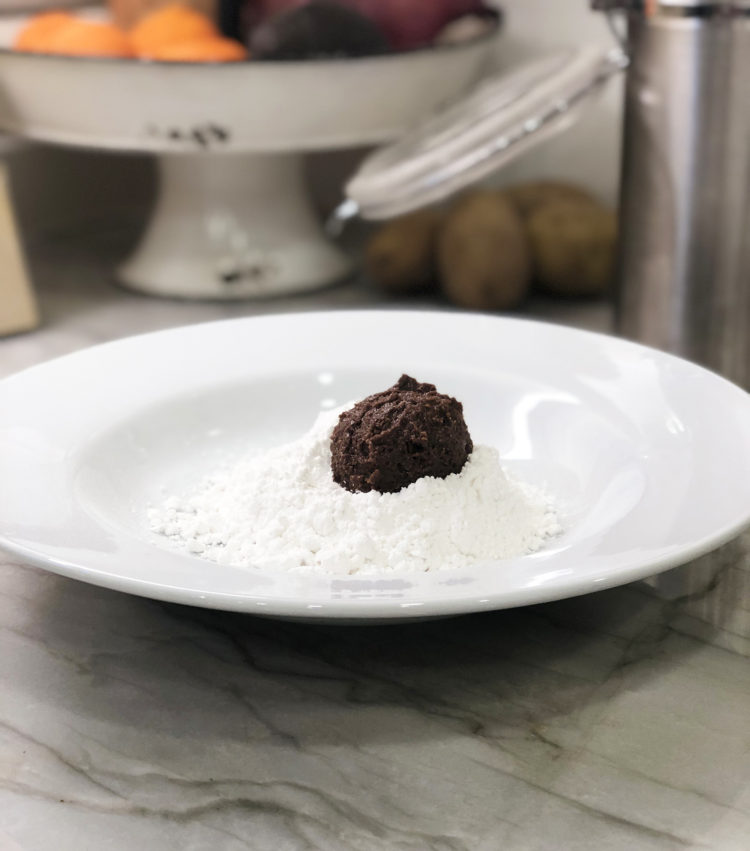 I know the idea of combining kids and powdered sugar can be daunting, but by the time the cookies were finished baking I'd already cleaned everything up and we had so much fun actually making the mess I didn't mind at all. Truly!
I haven't met a single person who hasn't loved these little brownie/cookie bites of heaven. And when I think about it, I'm not sure I want to know someone who doesn't love a chocolate cookie anyway! ? You'll have to try them and let me know what you think. Just don't get mad at me if you eat the entire batch! They're that good…
Brownie Mix Crinkle Cookies Recipe
Ingredients
brownie mix (18-20 oz)
1 - 1 1/2 cups flour
3 eggs
1/3 cup vegetable oil (or applesauce)
1/2 cup powdered sugar (more if needed)
Instructions
1. Preheat oven to 350F.
2. Combine brownie mix, 1 cup of flour, oil and eggs in a large bowl.
3. Add flour until the batter is thick and not too sticky.
4. Scoop 2 Tbsp of batter and roll into a ball and coat with powdered sugar.
5. Bake for 11-13 minutes.