Did you finally jump on the air fryer craze? I have had one for a couple years now and I'm constantly learning new things that you can make in it. These easy & delicious Crispy BBQ Chicken Potato Skins, for example. You can actually make every piece of this recipe in the air fryer if you want, how great is that?!
Air Fried Baked Potatoes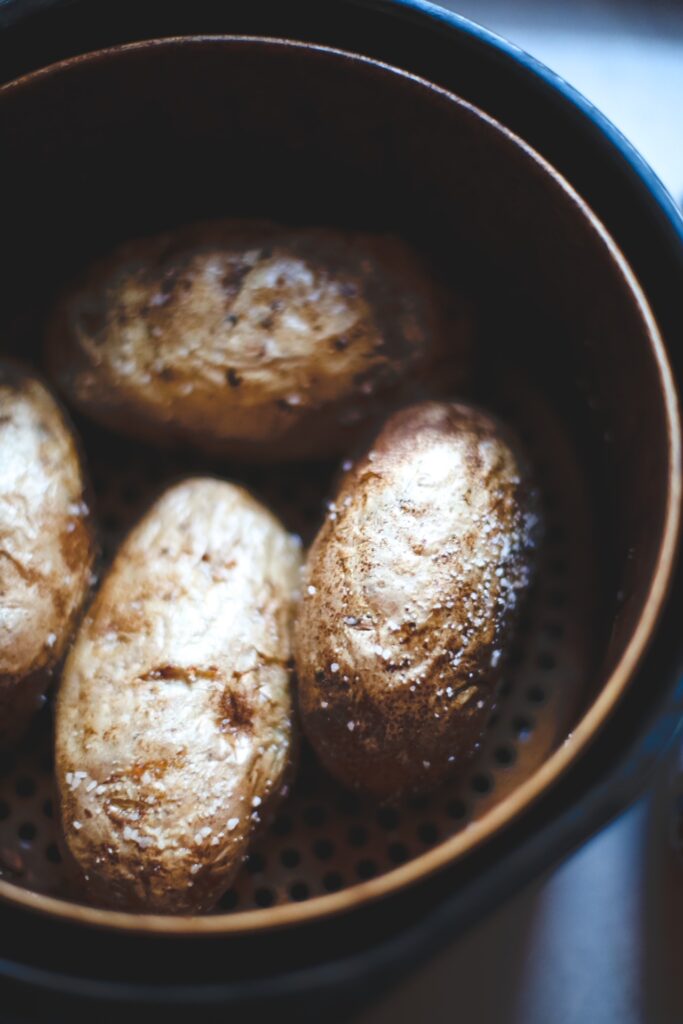 I love a good baked potato and the crispy, salty skin is one of the best parts! Until now, I've always left that up to a good and hot oven. But then I discovered that you can make super crispy baked potatoes in the air fryer – game changer! It takes half the time of a good oven baked potato and the skin is so crispy it's amazing. (Clearly I'm passionate about my potatoes!)
How To Get The Best Air Fried Baked Potatoes
Only use russet potatoes
Wash and scrub your potatoes
Dry with a paper towel
Poke holes all over the potato with a fork
Coat the potatoes with olive oil (use your hands to make sure it's ALL over)
Sprinkle the outside of the potato with kosher salt
Air fry for 30-40 minutes at 390°
Meanwhile… While the Potatoes are Baking
It's time to prep the filling! First up…
Cook the Chicken
Here, you can prep the chicken any way that's convenient for you. Be it a rotisserie from the grocery, pre-cooked chicken from the deli, baking your own or using your air fryer.
I used this recipe from Gimme Some Oven while the potatoes were in the air fryer. The potato skins recipe only calls for a small amount of chicken, so I used the rest to feed the family other meals.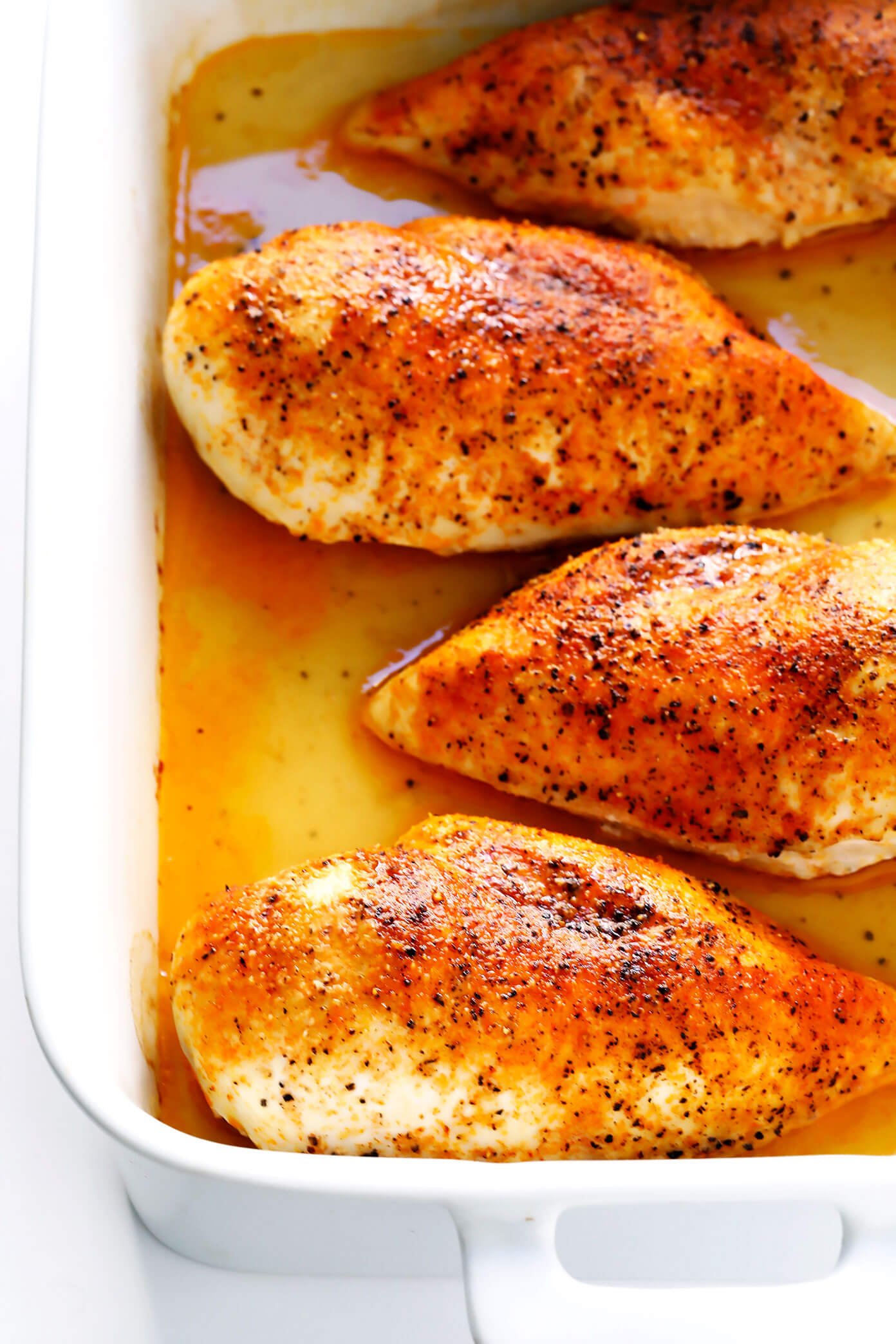 If you want to use your air fryer to make the chicken, that will work too! I would cook it BEFORE the potatoes so it has time to rest and cool before using. I recommend this recipe from Well Plated.
Prep the Rest
Get yourself some shredded cheddar. I can't preach enough about shredding your own. Once you start, you can't go back to pre-shredded cheese. I promise. Trust me. For starters, it tastes better. And there are no preservatives or cellulose (a filler often made from wood pulp).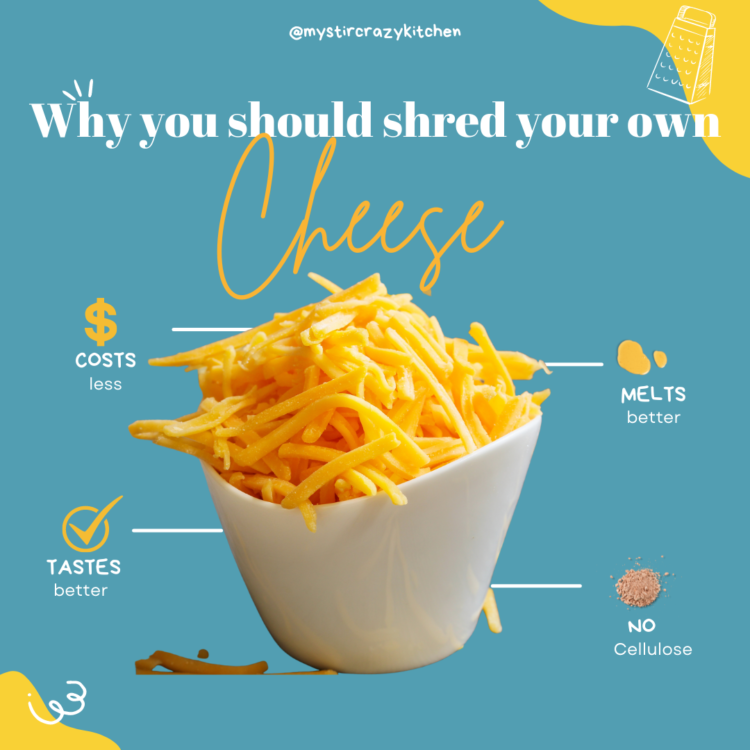 And all the toppings
The recipe calls for certain toppings like red onions and cilantro, but feel free to add in whatever floats your boat here!
Barbecue sauce
Red onion
Fresh cilantro
Sour cream (or ranch)
Sriracha
Crumbled Bacon
More cheese!
Build the Skins & Serve & Enjoy!
Perfect for a meal and/or appetizer!
AIR FRIED BBQ CHICKEN POTATO SKINS RECIPE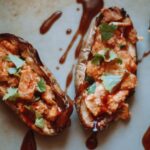 Print Recipe
Air Fried BBQ Chicken Potato Skins
These potato skins are made extra crispy in the air fryer – so easy!
Ingredients
4

8 oz

Russet Potatoes

4

oz

cooked chicken

BBQ Sauce

1/2

cup

cheddar cheese

(optional: more for serving)

2

Tbsp

red onion

diced

fresh cilantro

olive oil
Instructions
Thoroughly scrub the potatoes using a scrub brush and dry them with a paper towel.

Drizzle with olive oil on both sides and coat the entire potato.

Season the potatoes on all sides with kosher salt.

Use a fork to make holes all over the potato.

Cook at 390° for 40 minutes. Set aside until cool enough to handle.

While they cool, combine chopped chicken with ~1/4 cup BBQ sauce and cheese.

Split the potatoes in half and scoop out the insides, leaving a little in the potato.

Fill with the chicken mixture and air fry for an additional 5 minutes.

To serve, drizzle the potato skins with more BBQ sauce, sprinkle with more cheese, red onions and cilantro and ENJOY!
If you love these types of food, check out my other favorite apps HERE. And be sure to check out ALL of my favorite air fryer recipes HERE.
If you make any of these recipes, I would especially love it if you gave it a star rating ★ and review below. And please make sure you follow me on Instagram, Facebook and Pinterest!