This is the perfect Thanksgiving butternut squash side dish for your table this year! I was inspired by a Local Farm delivery bag when we received butternut squash and pomegranates. Combined with lightly sugared pecans and a tiny bit of spice in the dressing, this sweet and spicy combo will have you coming back for more.
If you like the combination of sweet and spicy – be sure to make these pecans this year for snacking!
To peel or not to peel?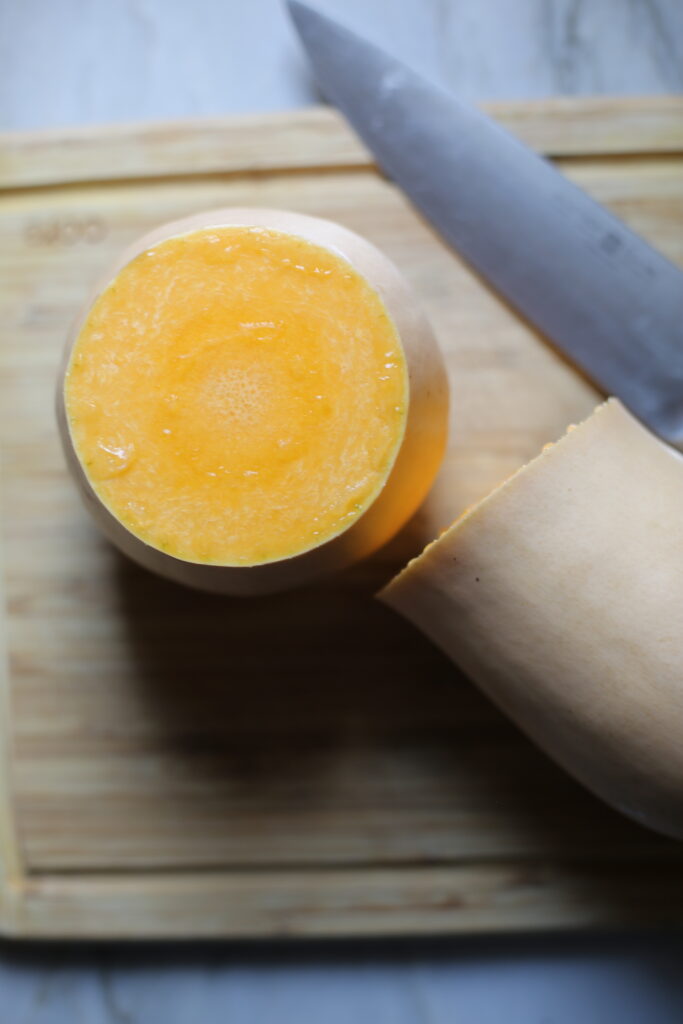 Do you peel a butternut squash? I actually tested this recipe both ways and it works either way. I am totally team "no extra work" so I would say don't peel them ahead of time. It works for this recipe since it is being roasted at a high temp for so long, it softens the skin almost melting it.
Making the Vinaigrette
While the squash is roasting, you can prepare this simple vinaigrette.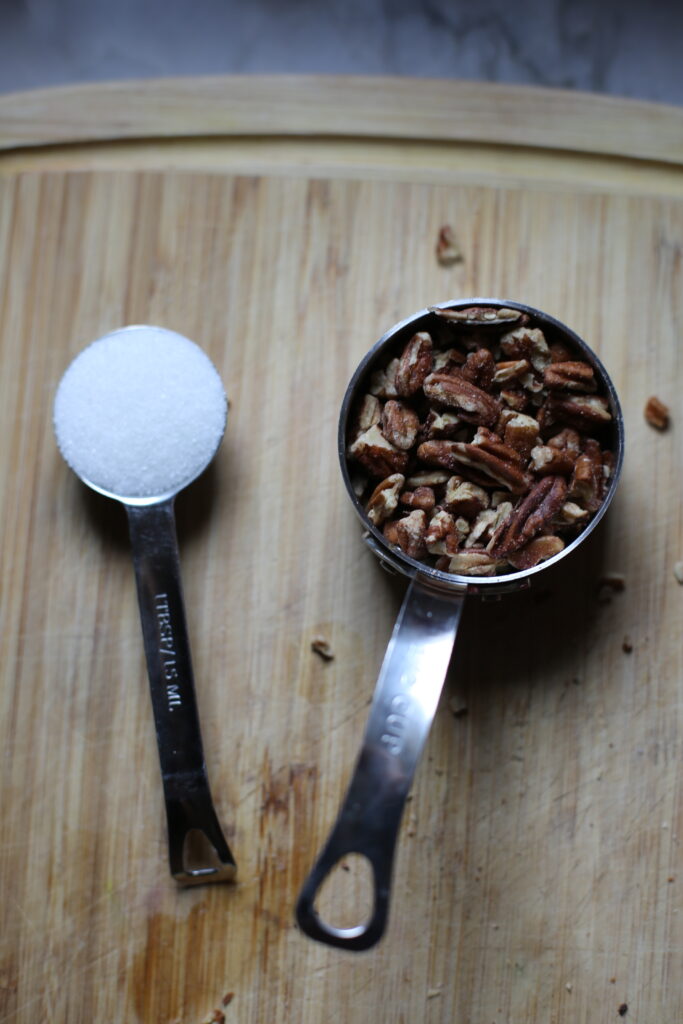 Start by lightly candying (is that a word?), the pecans. Heat a skillet over medium heat, and combine the garlic and one tablespoon of olive oil. Stirring and sautéing for a minute. Next, add the pecans and sugar, and continue stirring until the sugar has melted and the pecans are lightly browned (2 minutes). Set them aside to cool slightly.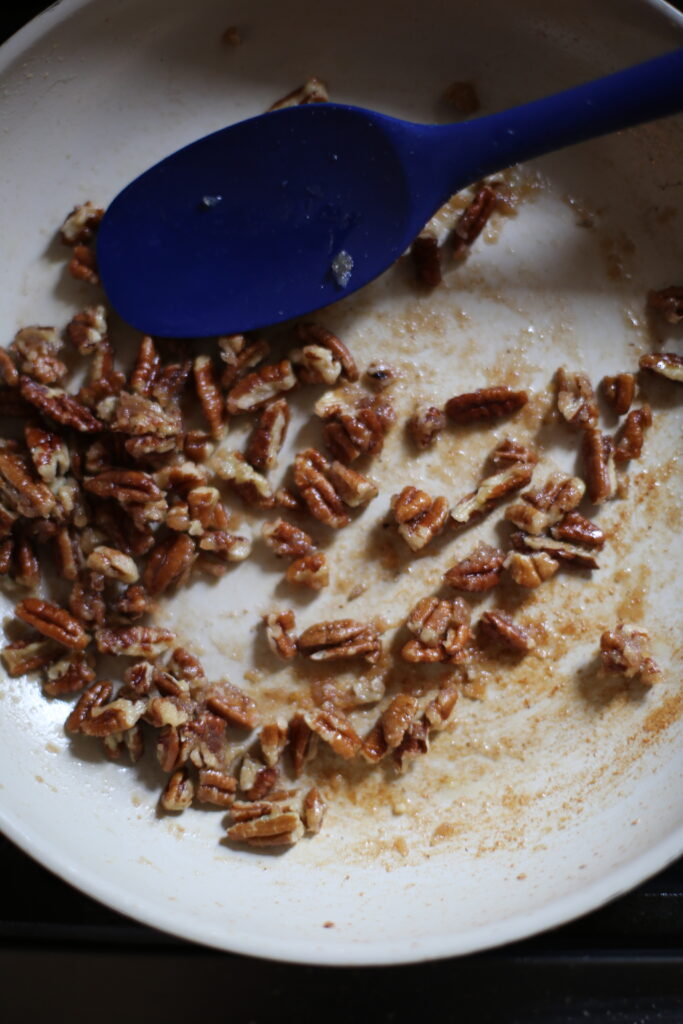 Whisk the vinegar into 3-4 Tbsp. olive oil. Add the cooled pecans, pomegranate seeds and chili flakes. Season with salt and pepper and stir to combine thoroughly.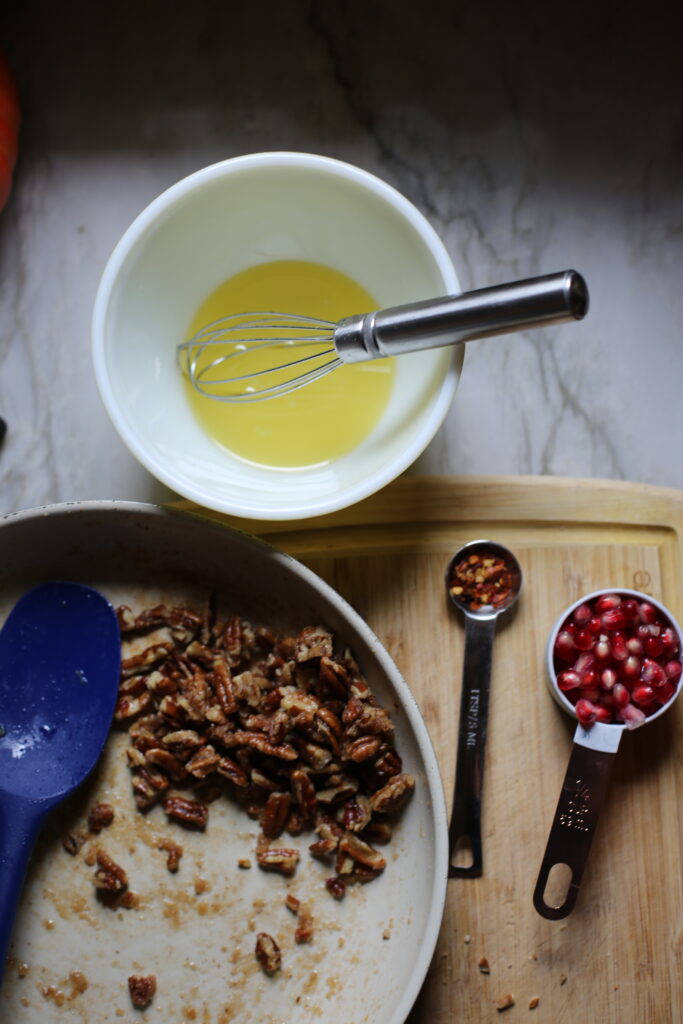 Assemble the dish
I love this butternut squash side dish so much because not only is it beautiful, but you can also prepare everything ahead of time and serve it at room temperature. Important for those big holidays when everyone is fighting over oven space.
First, grab a platter and line up the roasted butternut squash overlapping slightly.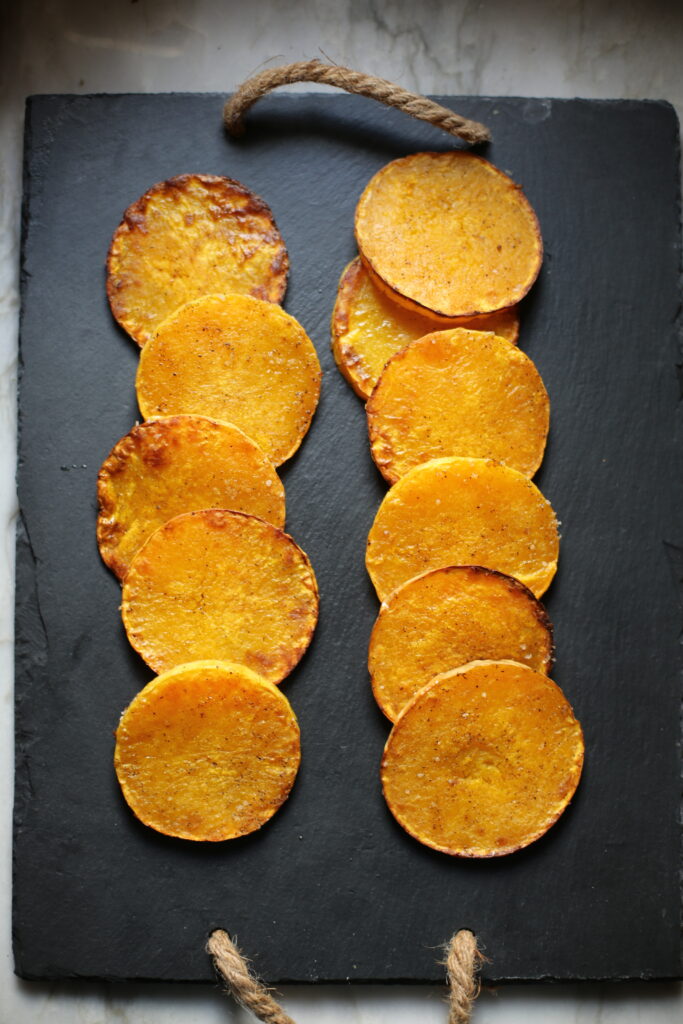 When ready to serve, simply spoon the chunky vinaigrette over the top of the butternut squash. So easy and beautiful and most importantly, delicious!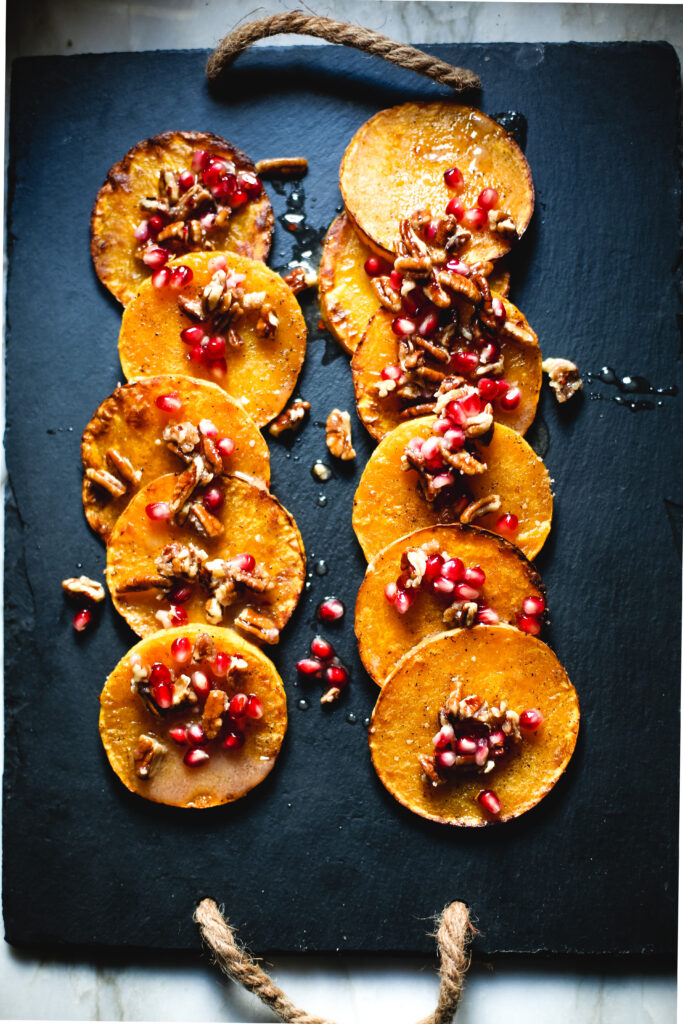 Get the RECIPE here
Butternut Squash with Pecans & Pomegranate Seeds
This simple, yet delicious, side dish is perfect for your fall table!
Ingredients
2

small

butternut squash

neck only, sliced into ½" discs

7

Tbsp

olive oil

3

cloves

garlic

minced

1

Tbsp

sugar

½

cup

pecans

coarsely chopped

¼

cup

white wine vinegar

1/4

cup

pomegranate seeds

½

tsp

red pepper flakes
Instructions
Place butternut squash slices on a rimmed baking sheet. Toss with olive oil, salt and pepper. Roast at 450⁠° for 30 minutes (flipping over halfway). ⁠⠀

In a large skillet over medium heat, combine garlic and one tablespoon of olive oil and sauté for about one minute. Next, add the pecans and sugar. When the sugar has melted and the pecans are toasted (about 2 minutes), remove from the heat.⁠⠀

Whisk the vinegar with 4 Tablespoons of olive oil. Stir in the sugared pecans, pomegranate seeds & chili flakes. ⁠⠀

To serve, lay out squash on a platter and top with the pecan mixture.⠀
Notes
This dish can be prepared ahead of time and served room temperature, just wait to top with the pecan mixture until time to serve.
If you make this recipe, I would especially love it if you gave it a star rating ★ and review below. And please make sure you follow me on Instagram, Facebook and Pinterest!