After reading this, you're going to start grilling limes immediately! At least you will if you know what's good for you. The idea of a Grilled Lime Cocktail just sounded so dreamy, I had to make it happen. Now that the weather is finally warming up around here, it was time to finally see if my idea lived up to the hype.
When we were in Aspen earlier this year, we had an amazing dinner at Matsuhisa. Allegedly Leonardo DiCaprio was there too, but unfortunately I didn't get to hang out with him. Next time!
I ordered the Umami Seabass with Miso, and naively asked if it came with a side dish. I love food, what can I say?! The waitress said, "Of course! It's served with a grilled lime." We clearly have a difference of opinion on what constitutes a side dish.
Differences aside, when I tried the "side dish" I was blown away at how grilling it completely transformed the flavor of the lime. It was much more mild, not quite as sour, and the perfect amount a little smoky. I immediately envisioned a summer filled with grilled lime cocktails.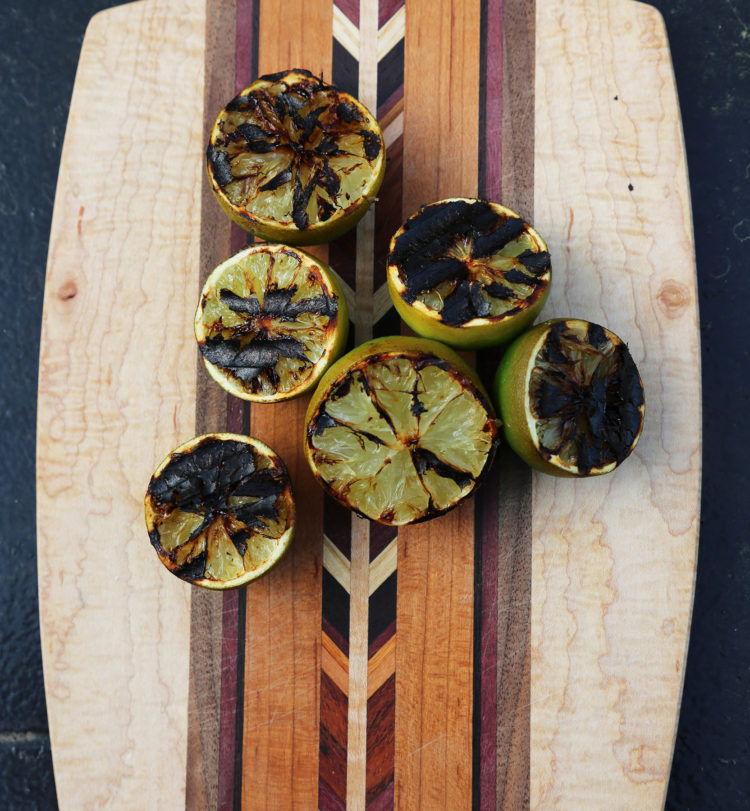 When the weather hinted at warming up (finally!!), I threw my limes on a grill pan because I was far too lazy to uncover my grill just for limes. I grilled them over medium-high heat for about five minutes, until they were slightly charred. To my surprise, they were even juicier after grilling. It was everything I had hoped! And maybe more.
I was craving a Grilled Lime Southside, so that's what I made! The hint of simple syrup balances the smoky lime perfectly. This will be my go-to drink this summer I can already tell!
Try substituting grilled lime in your favorite drink recipe and let me know how it turns out!
Grilled Lime Cocktails
Grilled Lime Southside
Ingredients
2

oz.

gin

3/4

oz

fresh grilled lime juice

2

grilled lime wedges

1

oz

simple syrup

2

sprigs of mint

soda
Instructions
In a shaker, muddle one mint sprig with the limes, and lime juice.

Add the gin and simple syrup and shake well.

Pour into a glass over ice and stir until glass is frosted.

Top with soda and garnish with the remaining mint.