I'm not going to mince words: oatmeal chocolate chip cookies are maybe the greatest things in existence. I had a feeling this would be true when I found a perfectly delicious recipe for oatmeal raisin cookies — I thought to myself, "I know how I can make this even better…" So, I exchanged the raisins for chocolate chips and, I probably don't have to tell you, I was totally right.
Most of the time, I'm a true believer in sticking with traditional recipes. If it ain't broke, don't fix it! However, I'll throw that rule out the window in a heartbeat for chocolate. It's nothing against raisins. They're great! I just like chocolate more.
This small act of defiance has inspired me to color outside the lines a bit with some of my favorite cookie recipes. I'm thinking there's going to be a post in the very near future with some ingredients that will surprise you. Stay tuned!
For now though, please enjoy these simple and perfectly delicious oatmeal chocolate chip cookies.
Chewy Chocolate Chip Oatmeal Cookies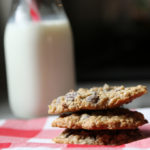 Print Recipe
Chewy Oatmeal Chocolate Chip Cookies
Ingredients
1/2

cup

granulated sugar

1/2

cup

firmly packed brown sugar

2/3

cup

butter

softened

1/2

teaspoon

vanilla

2

eggs

1

cup

all-purpose flour

1

teaspoon

baking soda

1/2

teaspoon

cinnamon

1/4

teaspoon

salt

2

cups

quick-cooking oats

1

cup

chocolate chips
Instructions
1.Preheat oven to 375 degrees. Line two baking sheets with parchment paper.

2.In a large bowl, combine sugars and butter. Beat until light and fluffy. Add vanilla and eggs; blend well.

3.Add flour, baking soda, cinnamon and salt; mix well. Stir in oats and raisins.

4.Drop dough by tablespoons 2 inches apart onto prepared cookie sheets.

5.Bake for 7 to 10 minutes until edges are light golden brown. Cool for 1 minute. Remove and let cool on a wire rack. Repeat with the remaining dough.