Welcome to my brand new "cooking the books" series! So, here's the deal. I have a lot of cookbooks. Like, whatever you're imagining, double it. I thought it might be fun to share my favorite recipes with you! After all, I'm doing all this "research," I'd be crazy not to share. I know you're not surprised that the first cookbook is Chrissy Teigen's Cravings.
Our cookbook club used Cravings one year and it was a unanimous favorite our of all the cookbooks we've ever used! We were blown away when every single recipe was delicious and not at all what we thought a cookbook from a supermodel would be like — I mean, I guess we assumed it would be more salads than Frito chili pies, but we were way off, and couldn't be happier about it.
COOKBOOK CLUB: EVERYTHING YOU NEED TO KNOW TO START YOUR OWN
Thanks to Cookbook Club, I sampled over 30 recipes from Cravings, and I'm going to get into my absolute favorites for you here. If you have the cookbook, I'd love to hear your favorites, too!
My Top 5 Favorite Recipes from Cravings
1. Prosciutto Wrapped Stuffed Chicken Breasts
This is hands down my favorite recipe in the cookbook. It's simple, yet packed with flavor and easy to cook for a crowd. She shared her recipe with Shape magazine, so I've linked it here in case you don't own the cookbook.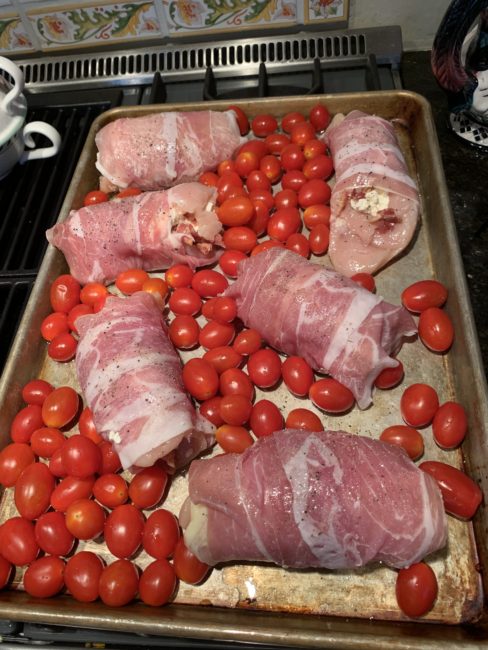 2. Cauliflower Mash with Roasted Garlic and Ricotta
This was a great alternative to mashed potatoes. The roasted garlic was prepared in a way that I was unfamiliar with (in a good way), and it yields a delicious garlic oil that you can use in all kinds of recipes. It's pretty much a staple for me now — you won't be able to live without it once you try it either!
Roasted Garlic Oil
Chrissy Teigen's Roasted Garlic Oil
Ingredients
2 1/4

cups

olive oil

30

large

or 40 medium cloves garlic, peeled
Instructions
In a small saucepan, combine the oil and garlic cloves. Set over medium-low heat so the oil heats up slowly. The garlic will start to sizzle after 10-15 minutes. Continue to cook the garlic until it turns golden brown, about 30-40 minutes longer. Remember: keep the heat low so it doesn't turn dark brown or get a hard outer layer.

Remove from heat and let it sit at room temperature for 1-2 hours (up to 24). Strain the cloves from the oil and store separately in the refrigerator. Let the oil come to room temperature before using.
Notes
Adapted from Chrissy Teigen's Cravings cookbook
3. Armadillo Cheesy Garlic Bread
Ohhhh this is oh so bad for your diet (seriously how is she a supermodel?!) but it is ohhhh so worth it. Even non-mayo lovers LOVED this gooey gooey cheesy bread. I love the way it's presented too, where everyone just kind of helps themselves by peeling off a bite. Or two.

4. Roasted Cauliflower, Feta and Orzo Salad
This roasted cauliflower salad is so delicious. The flavor combination is a hit with everyone and you can make it super easy on yourself and buy the pre-chopped cauliflower from the grocery store. It was great the day of cookbook club and saved well for leftovers too! My friend Katie at Tulsa Details shared the recipe on her blog – get it here!

 

 

 

View this post on Instagram

 

 
5. Crab, Cream Cheese and Scallion Wontons
While these are a little time consuming, they're super easy to put together and honestly, it's a kinda zen-like to perfectly fold the wontons and repeat. The recipe was shared on the House and Home website if you want to check it out.
Now that I think about it, I need to try these again in the air fryer… stay tuned!

BONUS RECIPE ALERT!!
I transformed Chrissy's sweet and salty coconut rice into a healthy side dish by swapping white rice for cauliflower rice. It is so delicious, I promise you'll hardly notice! Let me know if you try it and tag me if you share it!
SWEET AND SALTY CAULIFLOWER COCONUT RICE RECIPE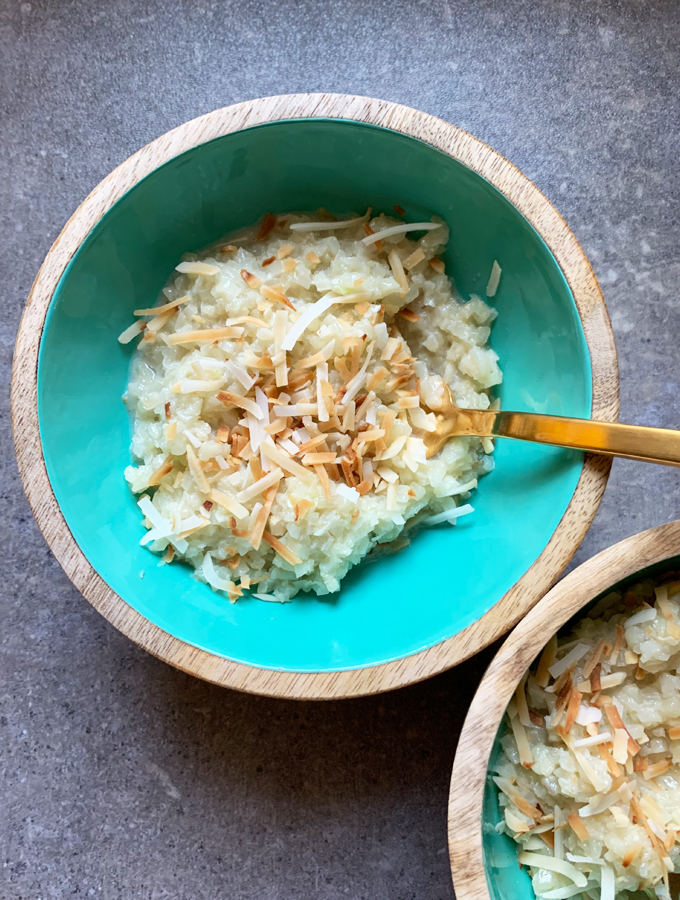 Cauliflower Sweet & Salty Coconut Rice
Ingredients
1/4

c.

shredded unsweetened coconut flakes

1

Tbsp

coconut oil

3

cups

cauliflower rice

1

cup

coconut milk

1/2

tsp

salt

1/2 to 1

tsp

coconut sugar

optional
Instructions
In a dry skillet, toast the coconut flakes over medium heat, stirring constantly until browned. Remove from skillet and set aside.

In the same skillet, add coconut oil and heat until melted. Add cauliflower rice and stir to coat. Cook, stirring occassionally, for 5 minutes until fragrant. Add in the coconut milk, salt & sugar, and reduce heat to medium-low. Simmer for 10-12 minutes. Remove from heat and top with toasted coconut for serving.
[Photos by Emily Steward]