Recently, my friend (Katie from Tulsa Details) and I teamed up for a Sweets and Stems event. It was so much fun — I did a class on a favorite dessert of mine, and Katie taught us how to do a flower arrangement. It was such a fun idea for a girls night!
The dessert I chose was something I thought a lot of people might be intimidated by… creme brûlée. Making creme brûlée was fun and delicious, but it also required a bunch of egg yolks. I hate to let perfectly good food to go waste, so I was on a mission to use the leftover egg whites. Enter: pavlova. Or in this case, "slablova." The term "slablova," coined by Food52, means it's enough to serve your summer crowd!
I was not familiar with pavlova, but once I had it I was hooked. I love the combination of strawberries and balsamic with a little bit of sweet whipped cream. But, the pavlova is the real star of the dessert. It's so light and airy you won't feel like you're over-indulging, even when you inevitably go back for seconds (or thirds).
The key to this recipe is lots of time and an equal amount of patience. You need room-temperature eggs, so go ahead and set some out right now. I'll wait!
After whipping the egg whites for what seems like forever, you bake it for 2 1/2 hours and let it sit for another 3 hours. While the time investment is heavy, the effort is actually really minimal. Let your KitchenAid and oven do all the work while you relax with a cocktail in your hand.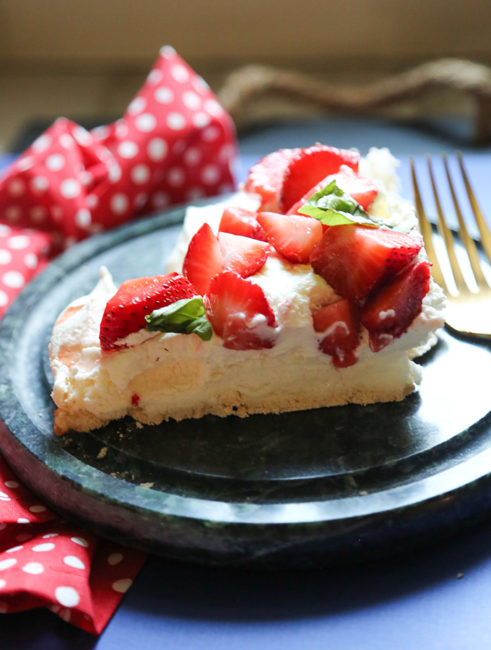 Once the pavlova is ready, all you do is top with whipped cream and a strawberry balsamic mixture. Then you enjoy the fruits of your labor and promise not to be shy when you start getting compliments. You earned them with this one!
Strawberry Pavlova Recipe for a Crowd
Strawberry Balsamic Pavlova
Ingredients
1 1/2

tablespoons

cornstarch

1 3/4

cups

plus 1 Tbsp. superfine sugar

divided

8

large egg whites

at room temperature

2

teaspoons

fresh lemon juice

1/2

teaspoon

kosher salt

3

cups

fresh strawberries

quartered

1/4

cup

torn fresh basil

3

tablespoons

white

or red balsamic vinegar

1 3/4

cups

heavy cream
Instructions
Preheat your oven to 250°F and line a rimmed baking sheet with parchment paper.

Whisk cornstarch and 1 3/4 cups sugar in a small bowl.

Beat egg whites, lemon juice and salt in an electric mixer on medium (about 1-2 minutes, until frothy). Increase speed to medium-high and slowly add the cornstarch/sugar mixture. Beat for about 10 minutes until stiff peaks are formed.

Form the meringue into a 13x10-inch rectangle on the parchment paper. Bake at  250°F until firm (approximately 2 hours and 30 minutes). Next, turn off the oven and let stand in oven until it's  completely cool (another 3 hours).

Combine strawberries, basil and vinegar and let sit for 30 minutes.

When you're ready to serve it, beat the heavy cream with 1 Tbsp sugar in the mixer on medium-high speed until soft peaks form. Spread evenly over the meringue. Top with strawberry balsamic mixture and serve immediately.
Notes
adapted from Cooking Light