This recipe for Garlic Butter Scallops dates way back to my first blog, She's the Bross (my maiden name is Bross — it was a great pun). Even before kids, Sam and I decided staying in on Valentine's Day was way more fun than fighting for reservations at a trendy restaurant. Since I love experimenting in the kitchen, I took the special day as an opportunity to branch out and get fancy, and by fancy I mean scallops. I've been making this for years now, and it's still one of our favorite "fancy at home" recipes. This year, I stepped it up a notch and added a decadent pasta to complement the scallops. It really was next level.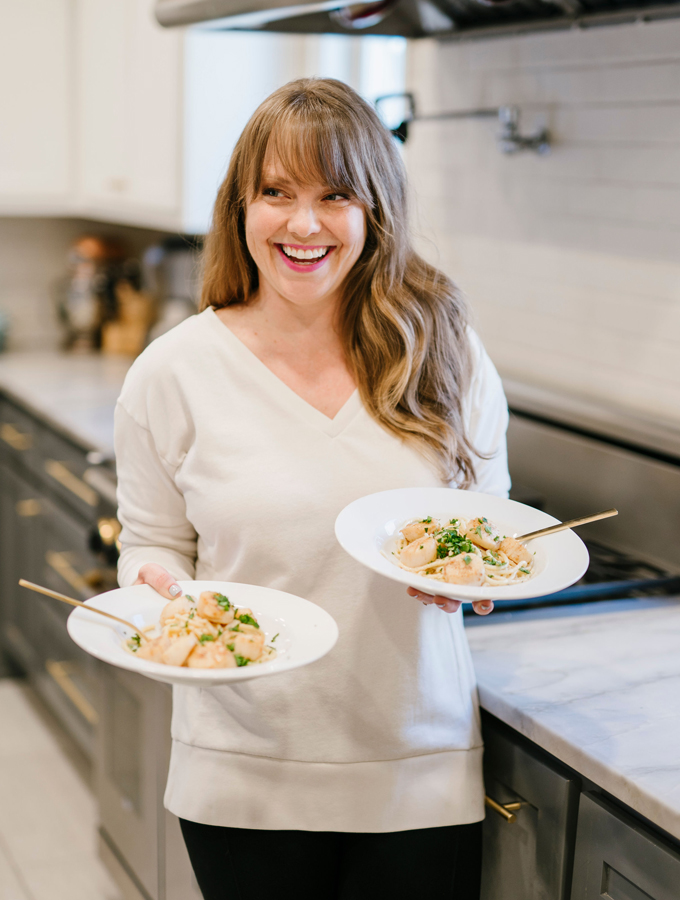 Scallops are one of my favorite types of seafood to cook because they're pretty much fail proof. I like mine well done (firm to the touch), but scallops are safe to eat at any "doneness" so there's really no way mess 'em up!
You guys know my obsession with both butter and garlic, so it should be no surprise that I combined them with scallops to create this dish.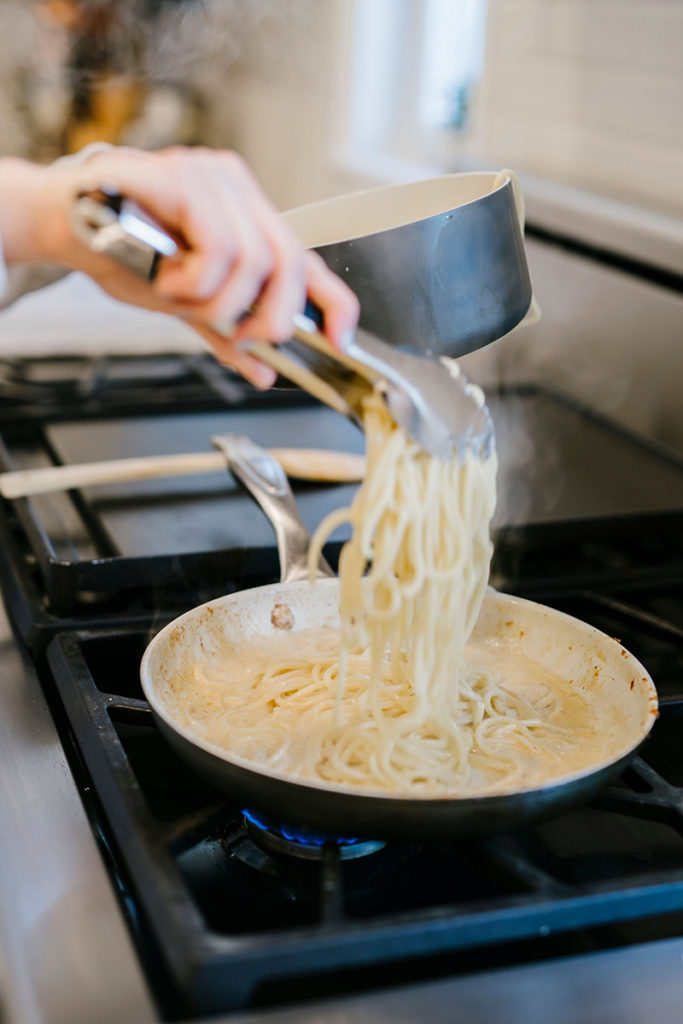 I cooked the pasta in the same garlic butter sauce, and it totally completes the meal.
I like to serve this dish with a nice white wine. Cheers!
Scallops in Garlic Butter Recipe
Garlic Butter Scallops with Pasta
Ingredients
1

pound

fresh sea scallops

12

oz

spaghetti

2

tablespoons

butter

divided

3-4

cloves

garlic

minced

2

tablespoons

dry white wine

1/4

cup

heavy cream

1

tablespoon

finely chopped parsley

1/8

teaspoon

salt
Instructions
Take your thawed scallops and rinse them thoroughly and place them on a paper towel to dry.

Bring a large pot of water to a boil. Add the spaghetti and cook, stirring occasionally, until al dente (tender but not mushy), about 8 minutes.

Meanwhile, heat 1 tablespoon of butter in a 12-inch skillet, add the minced garlic, and cook for a total of 30 seconds. Add your scallops and salt.

Stir to coat and cook for 2-3 minutes. Keep stirring and flip your scallops until they are opaque and cooked to your preference.

When the scallops are done, transfer them to plates or a serving platter.

In the pan, add 1 tablespoon of butter and the white wine. Stir and loosen up any browned scallop bits and cook for 1-2 minutes. Add the heavy cream and stir to combine. Cook for 3 minutes until the sauce has thickened. 

Add the pasta and stir to coat in the sauce. Cook for 2 minutes.

To serve, place pasta on plates and top with scallops and parsley.
[Photos by Emily Steward]