My husband absolutely loves a delicious sugary breakfast, so for his birthday I made a Browned Butter Brioche French Toast (do I need to give you a moment to clean up your drool? I'll wait.). I thought using brioche bread would take it to the next level, but what really makes this oh-so-good is the browned butter drizzled over it. Ohhhh man is it good.
Now that I'm thinking about it, you can drizzle browned butter on a pretty much anything and it will instantly take it up a notch.
If you're new to browning butter, let me give you some tips. It's super easy, but you're going to want to get it right for the very best flavor.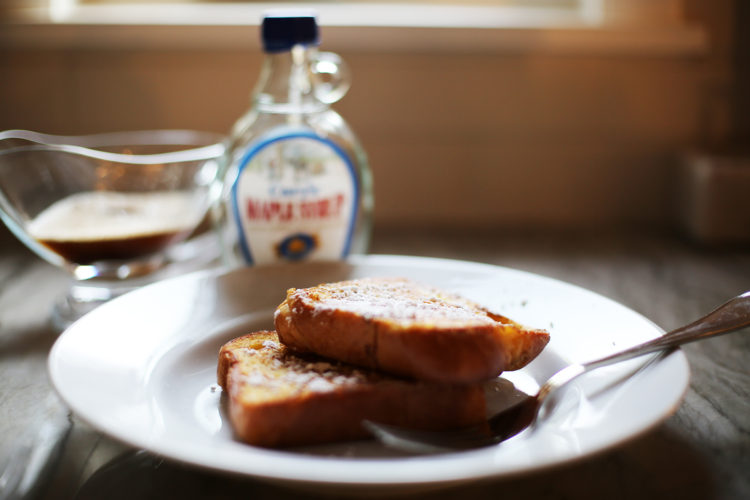 5 Steps to Perfectly Browned Butter
1. Keep your burner on the low-ish side. There's a thin line between browning and burning!
2. Stay close to the stove — you'll need to be constantly stirring.
3. When the butter starts to bubble a bit it will become foamy. This is when the magic happens!
4. After the bubbles fade, stir again and make sure the butter is a beautiful, golden brown.
5. Breathe in the amazing smell and start plotting how to pour browned butter over every meal.
The french toast is so perfect with just the browned butter and a sprinkle of powdered sugar, but if you're like my husband and kids — or Buddy the Elf — you can add syrup and really go nuts with the sugar.
Put this on your weekend menu and don't forget to tell me know how much you love it!
Browned Butter Brioche French Toast Recipe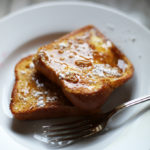 Print Recipe
Browned Butter Brioche French Toast
Ingredients
1 1/2

cups

milk

4

eggs

1

teaspoon

vanilla extract

1

teaspoon

white sugar

1/2

teaspoon

ground nutmeg

1

pinch

salt

1

tablespoon

butter

divided, or more as needed

10

1-inch thick slices dry brioche bread

1/4

cup

butter

6

+ tablespoons maple syrup

powdered sugar

for serving
Instructions
Preheat oven to 350F.

Whisk eggs, milk, vanilla, sugar, nutmeg, and salt together in a large bowl.

Heat a teaspoon of butter in a non-stick skillet over medium heat.

Dip each slice of brioche bread in the egg mixture and cook in the hot butter until golden, about 2 to 3 minutes per side. Add more butter for each batch.

Transfer french toast to a baking sheet.

Bake for 8-10 minutes.

While the french toast is baking. Heat up 1/4 cup butter in a sauce pan over medium-low heat, stirring constantly, until the butter is browned and toasty, 3 to 5 minutes.

To serve, drizzle each piece of french toast with browned butter, maple syrup and powdered sugar.
Notes
adapted from: All Recipes
You can find more breakfast inspiration over on Recipe Lion!