I love getting to know the bloggers I follow, so I thought I'd take this opportunity to get a little personal and share a bit about myself. I think even my closest friends might find something here that they didn't know about me!
NUMBER ONE
Even though I was the first person in my family to get a bachelor's degree, I realize looking back that not going to college was never an option. My mom and dad were always adamant about an education. They actually never married, but they've always been incredible co-parents to me. They are still amazing parents and grandparents all these years later!
I actually started college as a pre-med major, but turns out studying 24/7 wasn't for me. After freshman year, I switched to accounting and never looked back. I went on to receive a master's of accounting, and it's been such a great career. I truly love spreadsheets!
NUMBER TWO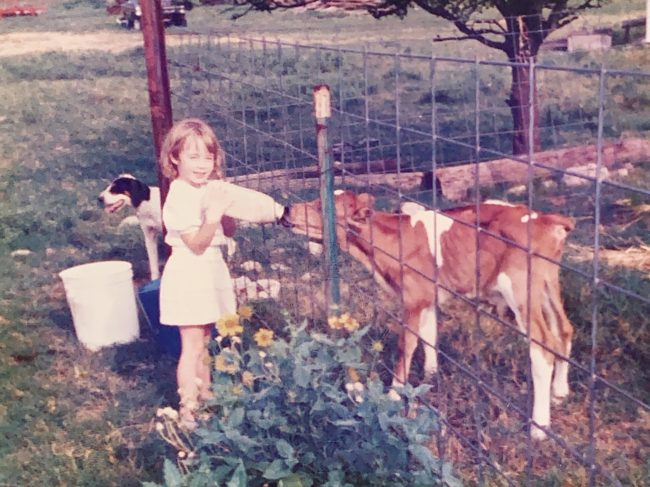 If you checked out my recipe for homemade dog treats, then you already know I'm an animal lover. Let me think… in my life I've had: a rooster, horses, bunnies, cats, dogs, a parrot, fish, mice, hermit crabs and hamsters. I know I'm forgetting some in there, but you get the idea.
I remember one time there was an abandoned kitten at my dad's farm that didn't even have its eyes open yet. It was absolutely the cutest kitten in the world, so I begged my mom to keep it. She kept saying no (we already had a cat), and I kept begging. My selling point was, "But Mooooooooooooom!!! She's sooooooooooo cute!" After a lot of pleading, she agreed to go look at the kitten at my dad's. I knew I had her, because the kitten really was that cute. See for yourself!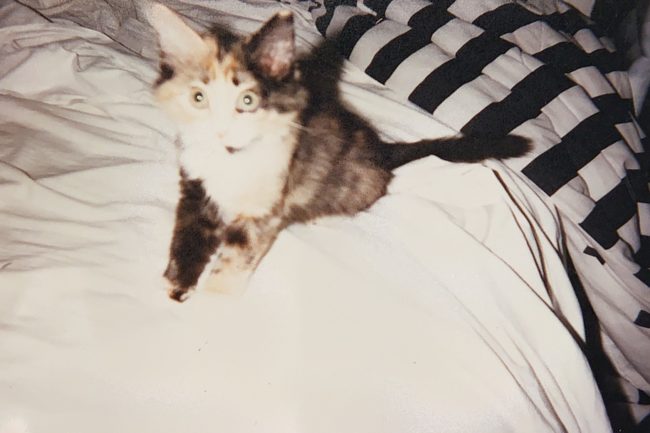 NUMBER THREE
I don't mean to brag (okay, maybe I do a little, but hear me out), but I had my first baby with NO epidural or pain medication. If you want to get into the details, I also put in a full day's work at the office while I was in labor. It's important for you to know this was not exactly my birth plan, but when I finally got settled in my hospital room things progressed really quickly, and the medical staff realized there was no time for meds. Looking back, I am so glad it happened that way, and I've almost forgotten how painful it was.
For the record — you bet your ass I got all the epidurals the second time around.
NUMBER FOUR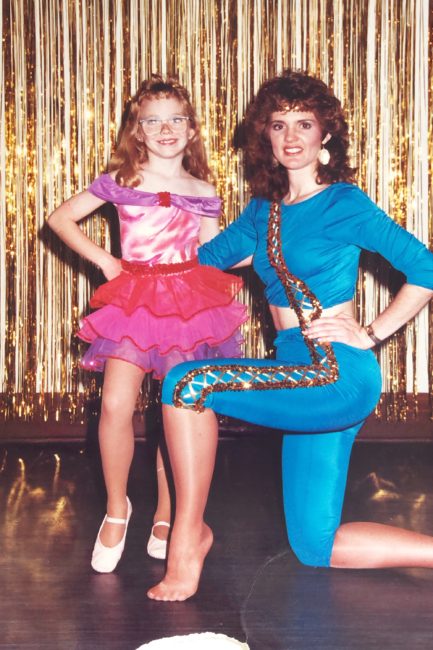 My mom opened her own dance studio when I was a little girl. In fact, she recently had her 30th annual dance recital! So obviously, I grew up dancing. It's one of my favorite things ever. Just try to be in a bad mood while you're dancing! I pretty much lived at that dance studio growing up, so if you've ever wondered why my calf muscles are so huge, now you know!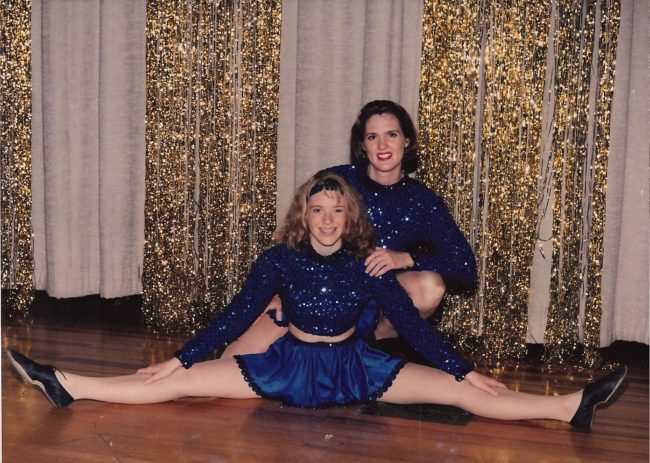 It was such a fun place for my friends and me when we were growing up, and I'm not sure I knew how lucky I was. I know the happiness lives on in the studio because now my childhood friends have kids who take dance from my mom! It's been so fun to watch this new generation discover the joy of dancing.
NUMBER FIVE
Okay, so you might think this is really gross, but I promise I'm telling you for a reason. Here goes… I've been pooped on by birds three times (and counting!) in my adult life. Ewwwww, right?! The first time I was in college, walking across campus. Got me right on the head.
The second time, it was my very first week at a new job. Luckily it missed my hair this time, so I wasn't late to work. I was so afraid I'd get a bird poop-related nickname around the office! Thankfully I didn't — at least not that I know of.
The most recent time, I was enjoying happy hour with a cold glass of white wine and a gorgeous afternoon on a patio. Stupid birds trying to ruin my good time!
I'm telling you all this because an old wive's tail says that it's good luck to be pooped on by birds, and I did win a trip for 10 to Italy, so… bring it on, birds.
NUMBER SIX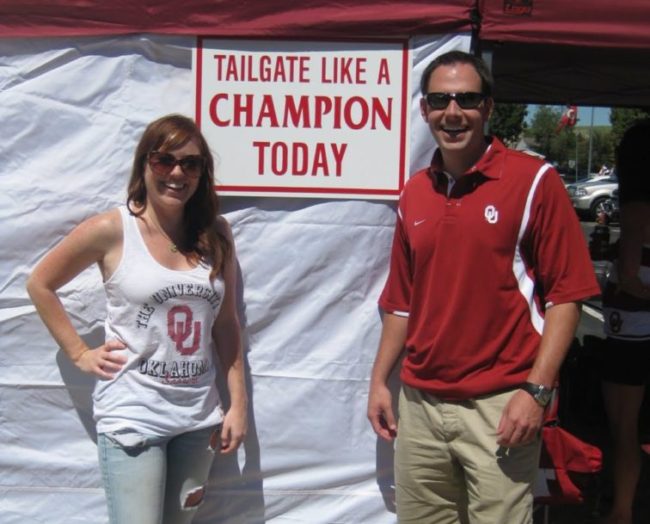 If you know me, you know I'm a huge sports fan — especially college football. Even more specifically, the University of Oklahoma football. Boomer!! After graduating I couldn't give up my Saturdays at Owen Field, so my best guy friend and I bought season tickets and I would drive by myself nearly 3 hours each way for the games. That's dedication! These days, it's a lot harder to get away on the weekends, but you better believe we watch each game. I'm pretty sure the "Boomer Sooner song" was one of the first songs my boys learned, and we have it on repeat all day long every Saturday in the fall.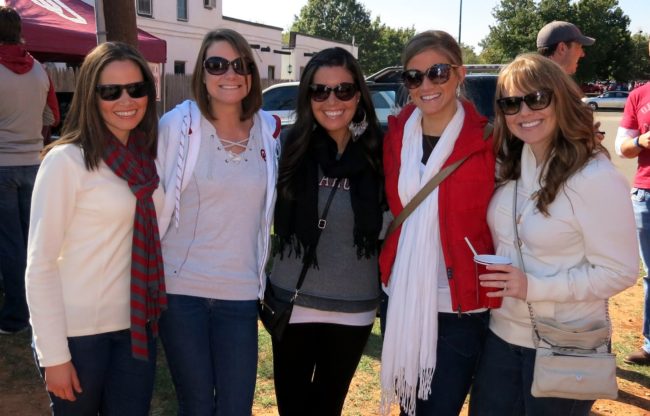 I do love other sports, too, just maybe not to the same extreme. I moved to Oklahoma City while my husband (boyfriend at the time) was finishing dental school, and it happened to be the first year of the OKC Thunder. We went to the inaugural game and even had partial season tickets. It was a super quick walk from our apartment, so that year we got to see so many games. We go as often as we can now, but it'll never be as fun as it was for us that first year.
We also follow the New York Giants, the Chicago Cubs and anything and everything that has to do with golf.
NUMBER SEVEN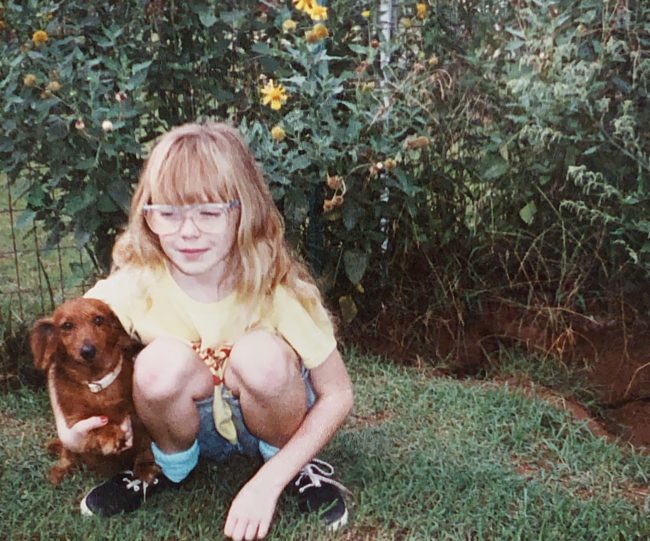 I've recently decided that I am an extroverted introvert. It might sound like an oxymoron, but it's totally a real thing. Basically, I love hosting and spending time with my friends and family, but I also need lots of rest and downtime to recover. I love happy hours and friend dinners and golfing with my husband and taking my kids to the pool and making news appearances in front of an audience of thousands, but I also love reading and watching anything true crime — once the kids have gone to bed, of course. Life is all about balance right??
I don't think I can come up with any more "interesting" facts about myself. This is a tough exercise! I'd love to know more about you, too. Do you have kids? Did you grow up with tons of pets? What's your television obsession?? Tell me all about yourself in the comments!