I'm no expert at this kid thing — and I am fully aware that all kids are different — but with mine, I've realized that knowing what to expect for certain periods of time really helps my toddler react without a major tantrum or meltdown. This DIY Weekly Learning Calendar seems to be a winner in our house!
My oldest son only goes to daycare two days a week, so it's hard for him to know what to expect day to day. I talk to him every morning to prepare him what to expect that day, whether it be daycare, a babysitter, a fun activity, or running boring errands with mom. It seems to help minimize his protests throughout the day because he was somewhat prepared.
That being said, I thought it would be a great visual tool to provide him with a weekly calendar so each day when he wakes up he could actually see what we were going to do that day or who might be visiting him. I created a kid calendar that can be printed and laminated so that we can change it week to week. I used velcro tabs and attached three to each day (you could always do more or less depending on how busy you intend to be).
DIY Weekly Learning Calendar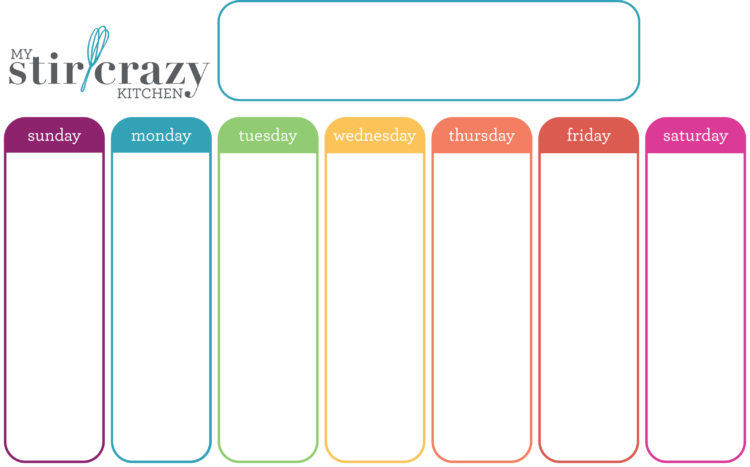 Click here for the full resolution download!
I've already talked about my new laminator because I love it so much and it was the best $20 I've ever spent. I mean honestly, just buy one right now because it's so worth it. Full disclosure, you'll need these laminating sheets to go with it, so technically it's $32. I stand by its bargain status!
I love the idea of being able to show Harris and Lee about time in a kid-friendly way. We're making little icons you can stick on, so Harris can see that Oma is coming in three days, or that he gets to go to school tomorrow. I've made mine MSCK Weekly Kids Calendar, so you can DIY with it until your heart is content! I'd love to see what you come up with — if you make a sheet and share it on Instagram, be sure to tag me @mystircrazykitchen.
Download your own MSCK Weekly Kids Calendar here!
Update: I've added some fun new icons for your calendar — just print them off, cut them out and add them to the calendar. So much fun!