My not-so-little Lee just turned one, and I can't believe it. I mean, everyone told me with the second kid time seems to go by even faster, but did they have to be so right? Baby Lee is officially a toddler, and I wanted his first birthday party to be just like him: filled with laughter and lots of food!
This year his birthday landed right around the Kentucky Derby and Cinco de Mayo, so it was only natural to combine the two into an epic afternoon perfect for both toddlers and their parents.
Once I had my theme, I set out to tackle my favorite part of party planning — you guessed it! It's the menu. I love getting deep into recipes and finding the most interesting ways to complement my theme.
Derby De Mayo Party Food
To stick with the combination of Cinco de Mayo and the Kentucky Derby, I decided to serve food from both themes. More options equals more fun! The party was set for 3pm-5pm, so I thought heavy hor d'oeuvres was more appropriate than a full meal. In hindsight, I might have put an emphasis on the word "heavy." I never want anyone to leave hungry!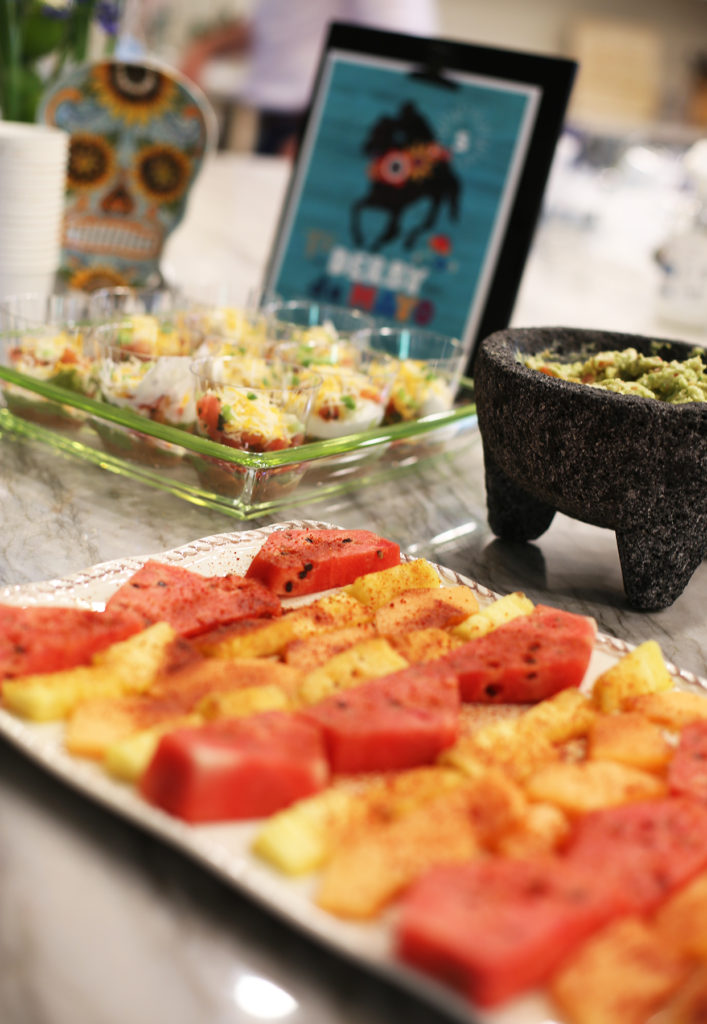 7-Layer Dip Cups

I've been dying to serve these Individual 7-Layer Dip Cups for ages. I don't know why but the idea of holding a cup o' dip just seemed brilliant… and everyone agreed!
Kentucky Hot Brown Dip

This Kentucky Hot Brown Dip was divine! In fact, there was NONE left, it was that good. I would recommend this for any party you throw, it was easy to prepare ahead of time and bake when ready. I used chopped turkey deli meat to make it extra easy.
Pimento Cheese Cups

This isn't really a "recipe" but it's one of my favorite ways to serve a hot dip. Fill phyllo cups with your favorite dip and bake for 10-12 minutes. People love finger food and this one is a party favorite!
Pimento Cheese Cups
Ingredients
Pimento Cheese

2

boxes Phyllo Cups
Instructions
Keep the phyllo cups frozen until ready to use.

Lay the cups out on a sheet pan and fill with your favorite pimento cheese.

Bake at 350F for 10-12 minutes.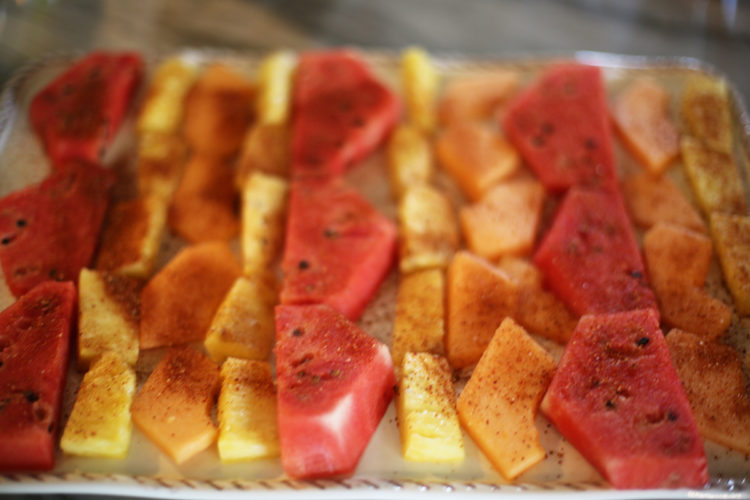 Spiced Fruit

When I've traveled to Mexico in the past, I loved this delicious combination of fresh fruit with lime and chili powder that is available as a refreshing snack. It takes your fruit to the next level – try it, trust me!
Churro Chex Mix

This sweet Chex Mix is beyond addicting. It's impossible not to grab a handful every time you walk by the bowl. Make it for parties or to give away around the holidays. Everyone will love you for it!
Brown Sugar and Butter Pecans

By now you probably know I'm a sucker for spiced pecans. When I found this recipe for brown sugar pecans with browned butter and rosemary, I decided to give them a try. I added a dash or two of cayenne pepper because if I can make it spicy I will! These pecans are so good and so addictive. You should definitely put them in your party rotation.
Guacamole

Someday I will have to write down a recipe for the guacamole I make. I am always just throwing it together and tasting as I go until it's just right. This one is pretty similar to mine, but my secret ingredient is a squeeze of a fresh orange. Shhh!
Derby De Mayo Drink Menu
For parties — yes, even kids' parties — I like to have a signature cocktail for the adults. For this party, we made Lime Beer Mint Margaritas. They were so good and super refreshing. The best part was how easy they are to make in big batches. I'll be making these again throughout the summer for sure.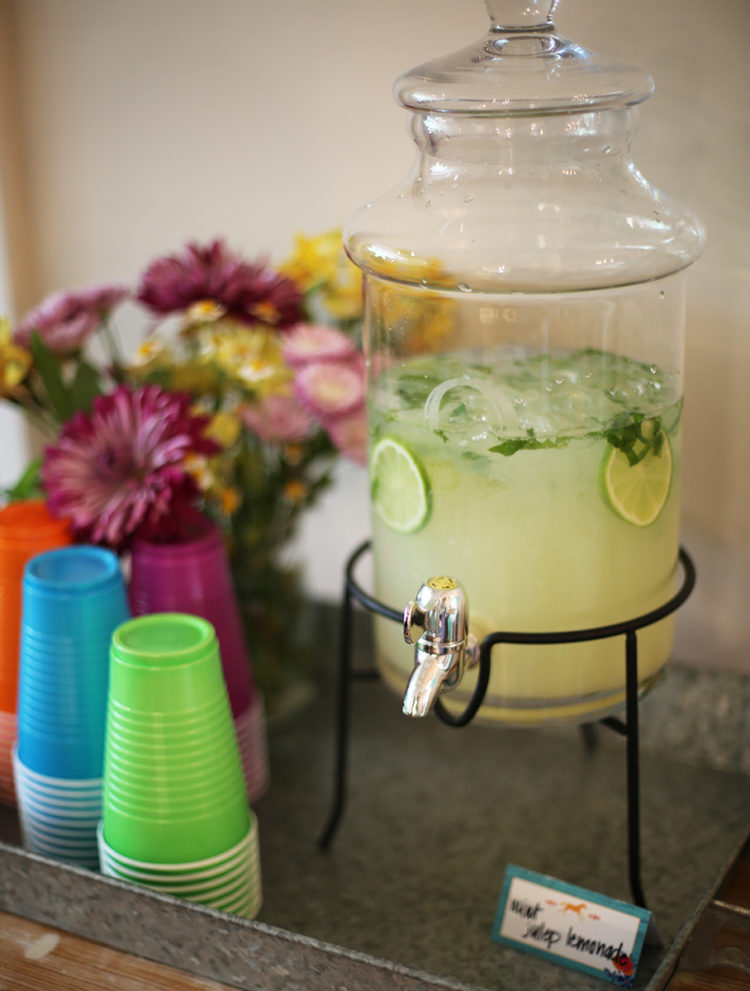 For the kids and any non-drinkers, I had Mint Julep Lemonade available. I never got a chance to try it, but everyone said they enjoyed it.
Mint Julep Lemonade
Ingredients
1

89 oz bottle of Simply Lemonade

2

tablespoons

of chopped fresh mint leaves

lime slices and fresh mint sprigs

for garnish
Instructions
Combine lemonade and mint leaves in a drink dispenser.

Serve over ice and garnish of sliced lime and mint leaves.
You're Invited!
Have I been living under a rock? I just discovered Zazzle and I am obsessed. I found the cutest invitation on Pinterest, and when I followed the link I discovered Zazzle. There, you can change anything on the invitation that you want, kind of like photoshop but way easy if you're a non-design person like me.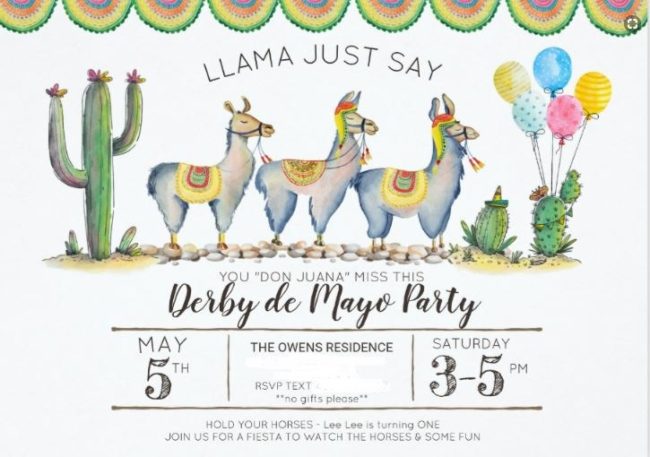 I fell in love with this invitation!
I was actually so impressed that I signed up for Zazzle Black, so now I get free shipping all year. If you're like me and also can be a last-minute person sometimes, this is worth the investment. If you are one of those people who is always prepared, you can probably skip Zazzle Black and save yourself $40.
Derby De Mayo Decorations
I usually take the simple approach to decorating, using banners and balloons for any birthday parties I host at my house. I couldn't resist adding in some themed paper plates from Target — they perfectly matched the invitations.
Surprising no one, Etsy totally made the party with this Derby de Mayo glitter banner. I hung it on the drink table, aka front and center, and it was the perfect eye-catching touch. Lee loved it, too!
First Birthday Party Activities

Of course I had no expectation that Baby Lee would actually do stuff. I mean, he's only one! But there are always older kids who need to be entertained, so we had some fun stuff set up.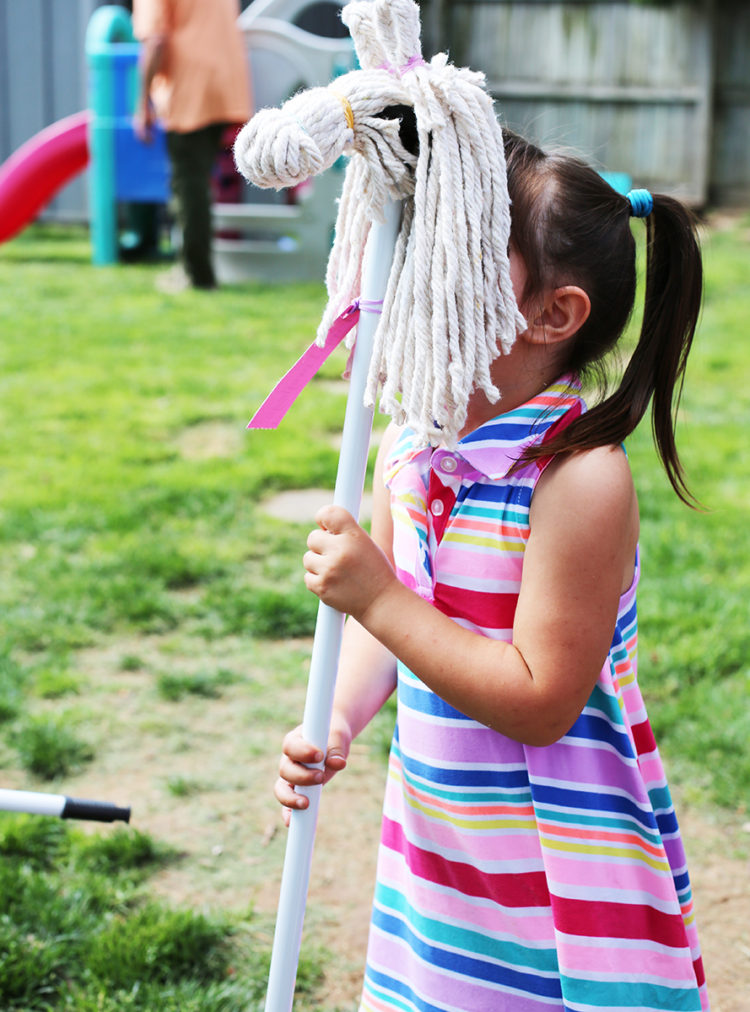 My amazing mom said she wanted to make stick horses so we could have a race in honor of the derby. She went so far above and beyond on these — they even had name tags for each of the horses. The kids (and later some adults if we're being totally honest) took turns racing around the yard.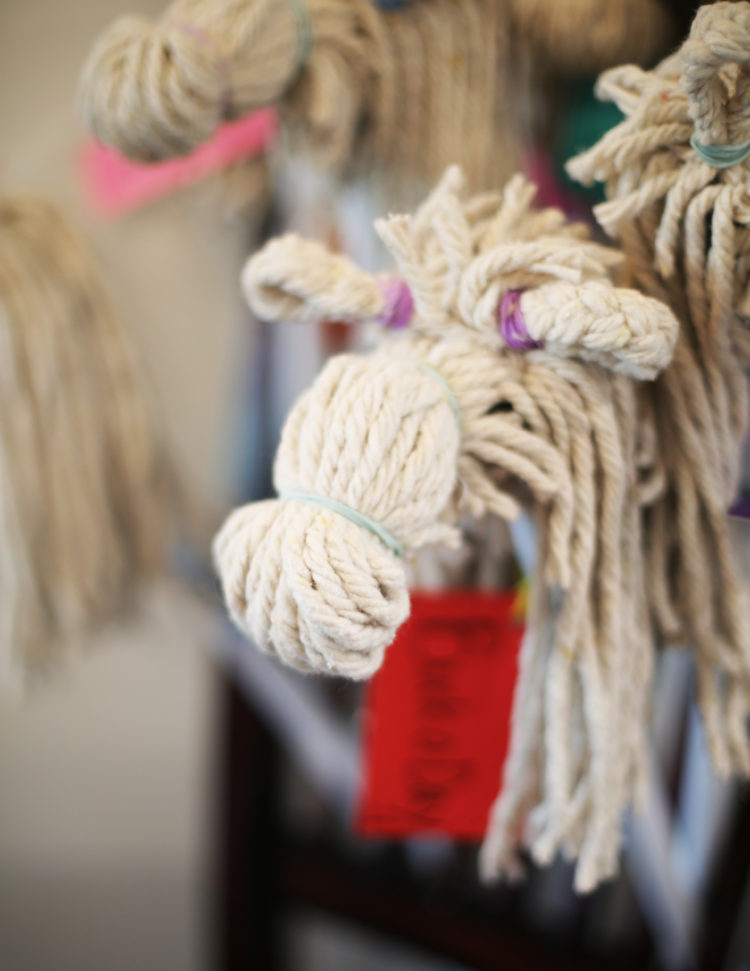 She made these stick horse party favors with mops from the Dollar Store, so this adorable DIY was a steal at only $10.
I'm not afraid to admit I'm a sucker for crafts. My three year old never wants to do crafts with me, and yes, sometimes it hurts my feelings, but I keep holding out hope that he will. I'm persistent, though, so for every party I host I like to have a craft for the kids to do.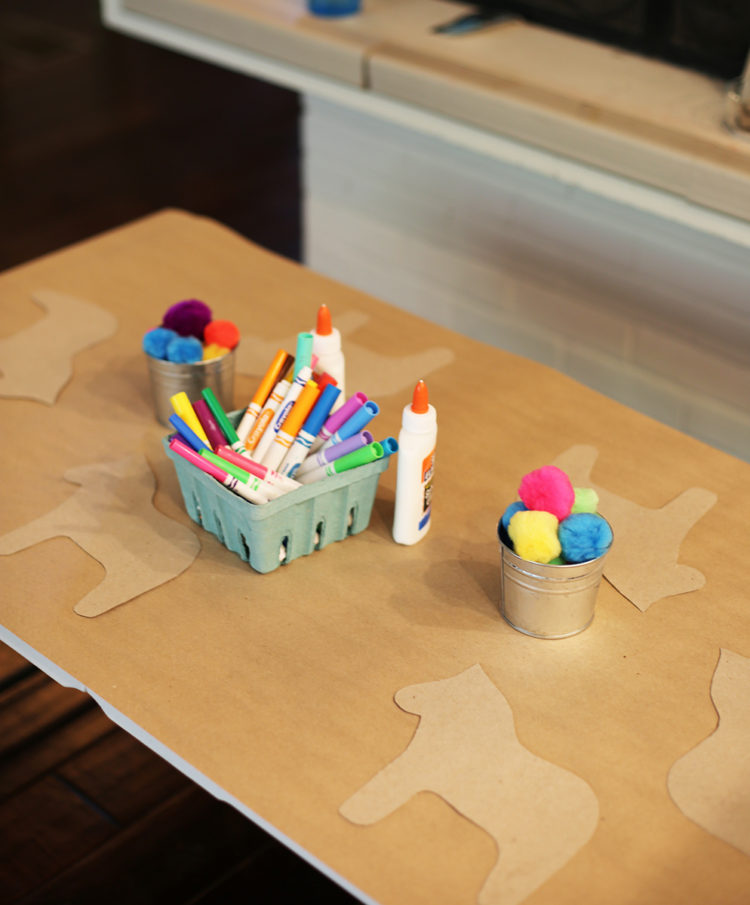 For the Derby de Mayo party, I thought these cute dala horses were perfect. The older kids really enjoyed gluing the colorful pom poms all over the horses! Overall a super easy and super cheap activity (I think I spent maybe $4 on the pom poms and glue)!
Baby Lee had just as much fun as everyone else, and thankfully, that's a lot of fun. Some of my favorite moments were watching the kids all playing together, and I am so grateful I was able to capture it to help keep the memories forever.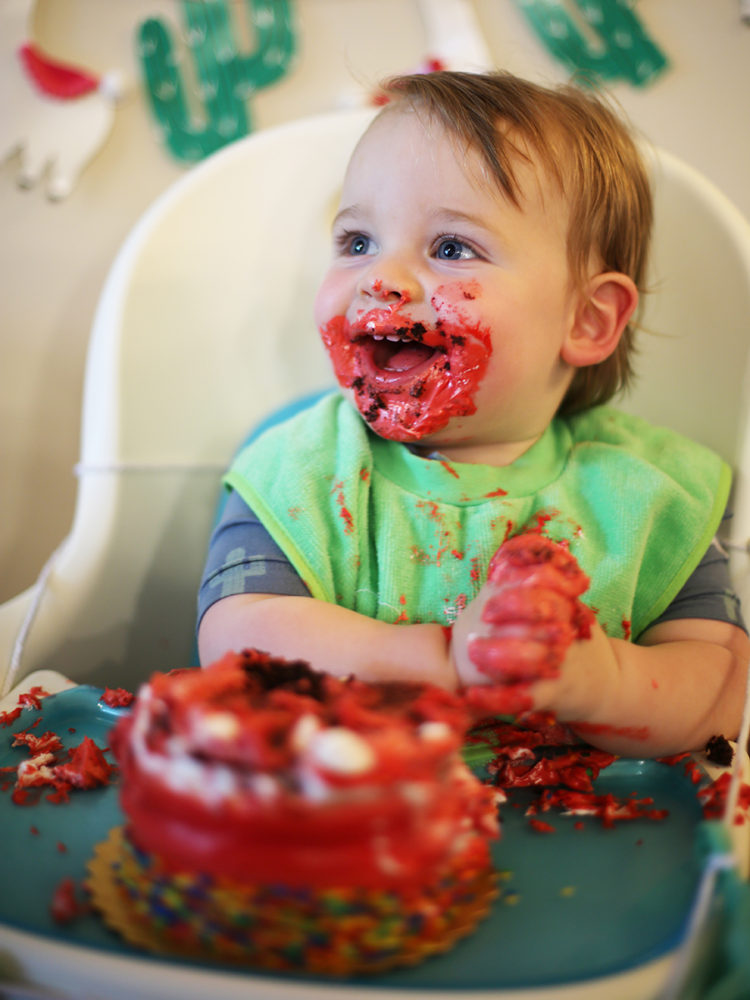 Whew! That was a lot of information! But if I've left anything out or if you have any questions, comment below or send me an email. I'm thinking since this party was such a success, we may have to make it our annual theme. I already have all the decorations! 🙂