My hobby of making yummy treats for the ones I love doesn't stop at humans! I give my pups some extra love with these homemade dog treats. I found a Pumpkin Peanut Butter Biscuit recipe that sounded good enough I was worried I might try to sneak a bite, so I whipped up a batch. My dogs loved them so much, and I know yours will, too! (For the record I let them do the tasting, although they do smell really great.)
This is probably a good time to tell you I am an animal lover to the max. I have had more pets in my life than the average person, to say the least. My mother is obviously an animal lover too, because she didn't even hesitate before saying "Yes!" to every animal I brought home or begged her to let me rescue. Of course we had the normal stuff like cats and dogs, but we also had roosters and a parrot, so I promise there was never a dull moment.
To be honest, I am not even a "dog person" or a "cat person." I am an animal person! Currently, we have two dogs that we rescued, but we recently lost our cat so for the first time in a very long time I am in a cat-free household. It's been awhile, and although I'll always miss sweet ZoZo, I think I am ready to get another one very soon. I can't wait to start the rescue process and find a new kitty to complete our family.
Our dogs add so much joy to our lives, and they're so sweet and loving with my boys. That's why I want to spoil them with delicious, homemade treats! How do you spoil your pet? Are you a dog or a cat person? Do you think we need to adopt a new little kitten like, right now??
Drop a comment and let me know!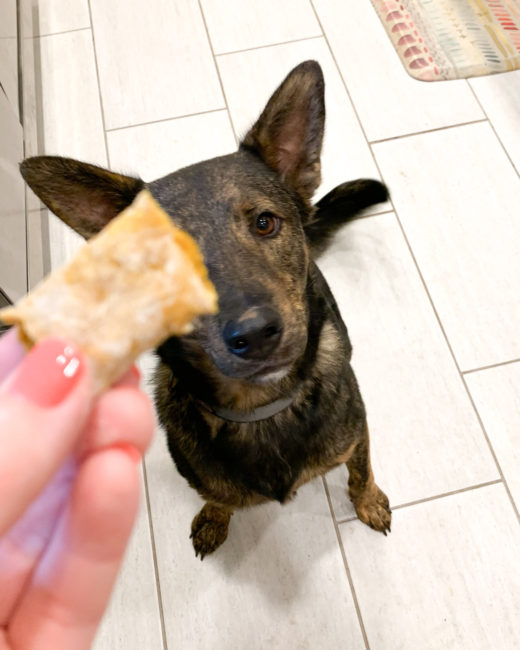 Pumpkin Peanut Butter Dog Treats
Pumpkin Peanut Butter Dog Treats
Ingredients
2

Tbsp.

Honey

2/3

Cup

Pumpkin Puree

1/2

Cup

Peanut Butter

3

Large Eggs

3

Cups

Whole Wheat Flour

plus some for rolling

1

Cup

Oats
Instructions
Mix the honey, pumpkin puree and peanut butter with the eggs on a low setting (1-2) until mixed well. Gradually add the 2 cups of the flour, and the cup of oats at a low speed. Add the third cup of flour a little at a time until it becomes difficult to mix in the flour. Dough will be stiff and still sticky at this point. Turn out on a floured surface.

Put a small amount of flour on the surface and the rolling pin. Roll until dough is roughly 1/4 inch thick. Use cookie cutters for the shape you wish to use, re-rolling until all the dough has been used.

Place cookies on non-stick cookie sheet and bake for 20 minutes or until browned. Thicker cookies may take a little longer.

Cool completely. Store in a dry container or freeze.