A few years ago I attended a bachelorette party in Boulder. We stayed at an amazing Air BNB and the owner had a list of items that should go in the compost bin rather than the trash. I remember thinking that I had no idea that so many items could be composted! After that trip, I became ultra aware of everything I was throwing in the trash.
On a side note — our city trash bin was always overflowing by trash day, even before kids. I am already crazy about recycling, so the obvious next step was to become crazy about composting! I was gifted this very basic compost bin (you really don't need anything fancy) and got started right away.
After I started composting, I noticed a significant decrease in our curbside trash. It actually has never overflowed again! Even after adding two kids to our family, our trash level has stayed on the low side.
I can't believe how low maintenance composting is — all you have to do is collect your items in a bin! If this is all you do, the magic will still happen, albeit slowly. If you water and stir/turn your compost, the magic will happen very quickly. Once your items have turned into rich, black soil, you can use it as fertilizer for your yard and plants. It's a win/win/win!
When I got started I had no idea how many things I could compost. If you're not sure either, I've listed out my 10 favorite things to compost below.
10 Things I Love To Compost
1. Coffee grinds and coffee filters
2. Egg shells
3. Fruit (cores, ends)
4. Vegetables (peels, ends)
5. Vacuum dust/hair
6. Stale bread/cereal
7. Brown paper bags
8. Dryer lint
9, Toilet paper & paper towel rolls
10. Shredded paper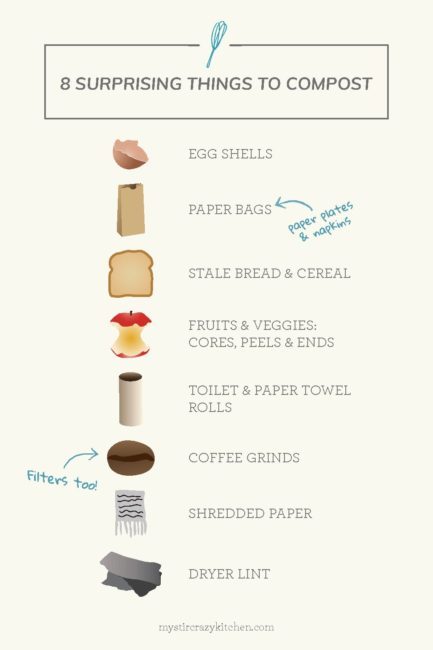 To make composting even easier, you can keep a cute little bin under your sink or in your freezer to collect items throughout the day. Then you just take it out when it's full. This is totally easy and you can do it, too! I promise. ??
Do you want to learn more about composting? I'm thinking about making this a series if you guys are interested! It's one of my favorite things to talk about, so a series would be almost too fun for me. Let me know what you think!
Photography by Amanda Lassiter