I'm new to the idea of salad pizza. When I first stumbled upon it on a menu, I honestly thought at best it was an oxymoron and at worst — and more likely — it was a typo. As usual, my curiosity got the best of me and I had to try it. I was totally and completely hooked. A thin, crispy pizza topped with a sharp arugula salad?! It's incredibly simple, but it's SO good. Bonus: I ate the nearly the entire pizza and didn't feel guilty at all because it was practically a health food.
If you start with a pre-made crust, half the work is already finished for you. I waffle (ha! food puns!) between making my own pizza crust and buying pre-made. In this instance, I think pre-made is best to get it as thin and crispy as possible. Before you get too excited about skipping the homemade dough, I do fully recommend making your own salad dressing. It will take this thing to the next level, I promise!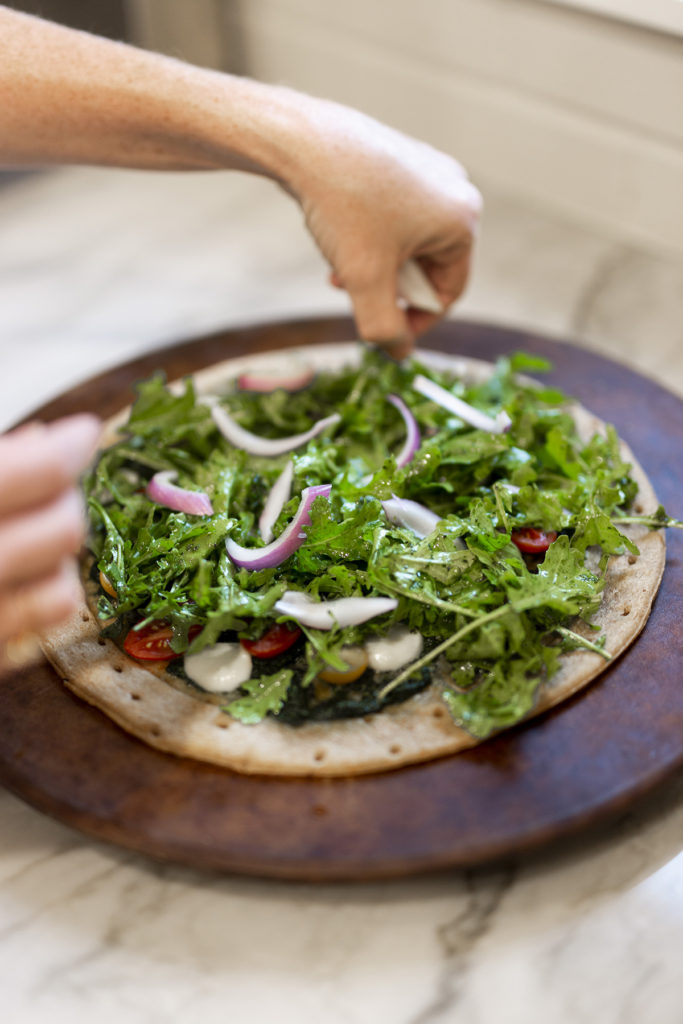 If the homemade salad dressing game is new to you, it's a lot easier than you'd guess. Combine that with how much better it tastes, and you'll never go back to buying packaged vinaigrette again. Another bonus to making your own is that you can just use what you have on hand, so it can be as fancy (think: roasted garlic) or as basic (just some oil and vinegar) as you want. I have a delicious new vinaigrette recipe I'll be sharing soon, and as always, the red onion dressing is a perfect complement.
When recreating this at home, remember that your salad pizza can be anything you want it to be. You could even top a store-bought thin pizza crust with one of those mixed bags of salad and serve this meal with almost zero effort.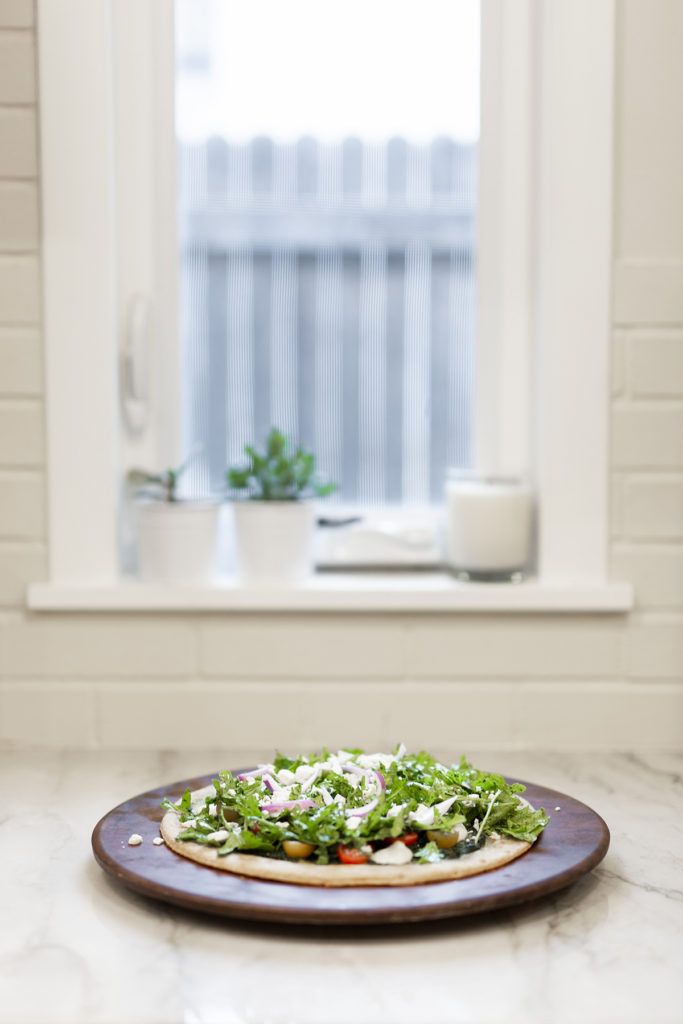 Give this recipe a try and let me know what you think by tagging me in your creation @mystircrazykitchen!
Salad Pizza Recipe
Salad Pizza
Ingredients
1

tablespoon

white wine vinegar

1

tablespoon

olive oil

1/4

teaspoon

kosher salt

1/4

teaspoon

black pepper

1

5-oz. thin whole-wheat pizza crust

1/4

cup

basil pesto

16

small

fresh mozzarella balls, cut in half

8

cherry tomatoes

cut in half

1/8

teaspoon

crushed red pepper

optional

1

package arugula

approximately 4 cups

1/2

cup

thinly sliced red onion

shaved parmesan

for garnish
Instructions
Preheat oven to 400°F and place rack in the top position.

Place pizza crust on a baking sheet or pizza stone and spread pesto over the crust generously. Top with the tomatoes and mozzarella and crushed red pepper, if using.

Bake on the top rack at 400°F until slightly crispy (about 6 minutes). Then, turn the broiler to high, and broil another 1-2 minutes. Remove from the oven and let cool while you assemble the salad.

In a medium bowl, whisk together vinegar, oil, 1/4 teaspoon salt, and black pepper. Add the arugula and toss to combine. Arrange salad evenly over pizza, topping with the sliced red onion and parmesan. Cut into 8 slices and serve immediately.
[Photos by Emily Steward]