It's no secret that Trader Joe's has a cult-like following. I certainly enjoy the smaller store and cheap organic produce, but my favorite is the random seasonal items that hit the shelves each year! Each one of these items is amazing, but maybe the best part is that they're all under $5. I can actually hear you saving money!
My 6 Favorite Trader Joe's Seasonal Items
$2.99 | Chocolate Pumpkins
These super cute chocolate pumpkins make for an adorably edible holiday dessert display. And, if you can't tell by the picture above, they're super tasty, too! I love having these on hand in case guests drop by. It's a cheap and simple way to look like you're always in the holiday spirit!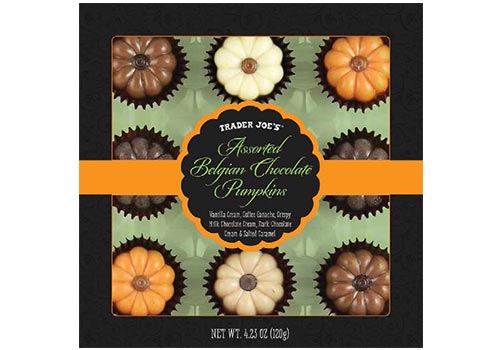 $0.99 | Chocolate Advent Calendar
I love getting these chocolate advent calendars for my nieces and nephews as little holiday gifts, because what kid doesn't love getting a piece of chocolate every single day until Christmas?! Notice I said nieces and nephews, not my own children. Next up — drum kits! I'm mostly kidding. 🙂
$2.99 | Pumpkin Waffles
I don't even think you could make your own homemade pumpkin Waffles for this price! I tried them out on my family and everyone loved them. And I loved the convenience of the mix as much as I loved how tasty they were!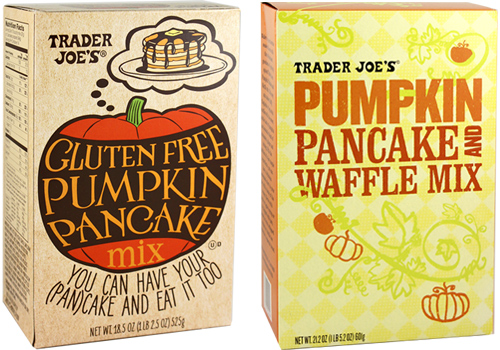 $2.99 | Mirepoix
I know this isn't technically a seasonal item, but I couldn't resist mentioning this gem. For this low price, you can save your hands the trouble of extensive chopping and your eyes from crying those onion tears. I keep this on hand, because you can make anything out of it. It's a fridge staple, and for $2.99 it's totally worth it in my book!
$3.99 | All Butter Puff Pastry
I recently took a puff pastry cooking class and the instructor raved about the TJ's version. Even without the expert endorsement, they had me at "all butter," if I'm being totally honest. This is only available during the fall/winter season so go stock up right this second and thank me later.
$3.49 | Gingerbread Dog Treats
Don't forget about your furry friend's stocking stuffers! These gingerbread dog treats will let your sweet pup know you love him, and you'll love that they're made without any corn or soy, which can be common allergens for our pets. These are also a cute way to show your friends' pets some love. Just don't forget about dogs this holiday season, okay??