As a mom, I'm not ashamed to say I regularly rely on my phone for parenting advice. How did our mothers before us keep us all alive?! Thankfully, there are some really great apps for parents that really and truly help with this whole adulting gig.
With my first baby, my favorite "app" was Google. Oh my gosh I Googled everything! I'd be so embarrassed to go back and see my search history. I'm sure it would be hilarious! With baby number two I was more confident, but there are other ways these apps help me there — like remembering to take those adorable milestone pics that always make me emotional when Facebook shows me my "memories!"
My Favorite Apps For Parents

By far, this is the number one parenting app everyone needs. Unfortunately, the app only takes you through baby's first year, but there is a book that will take you the rest of the way if you're interested. What's so magical about this app is the way it explains the milestones your baby is going through during each phase, or "wonder week." It doesn't matter what personality, demeanor, or attitude your baby has, this thing is dead on accurate.
It's crazy how I would notice a change in behavior in my babies, check the app, and sure enough! They were going through a transitional period. For me, understanding what my baby is going through makes it a lot easier for me to deal with the fussiness and lack of sleep. It's also incredibly helpful knowing that it's just a short phase and before long you'll have the happy baby you know and love back again!

Most of you probably signed up for The Bump when you were pregnant, but did you know it goes well past when the baby is born? Similar to The Wonder Weeks but on a weekly basis. I love reading about what's going on in my baby's brain! I feel more connected to him when I can understand what he's going through. The more information the better for me!

When you have a newborn, eating, sleeping and pooping (I'm talking about the baby!) can rule your life. It's easy to forget the last time they did everything, then you get to the doctor and they have the gall to ask how many diapers you change in a day. Enter: Baby Connect. It has the capability to track everything. I mean EVERYTHING. This app can take you well past the baby years too. You can track your child's growth, milestones, etc.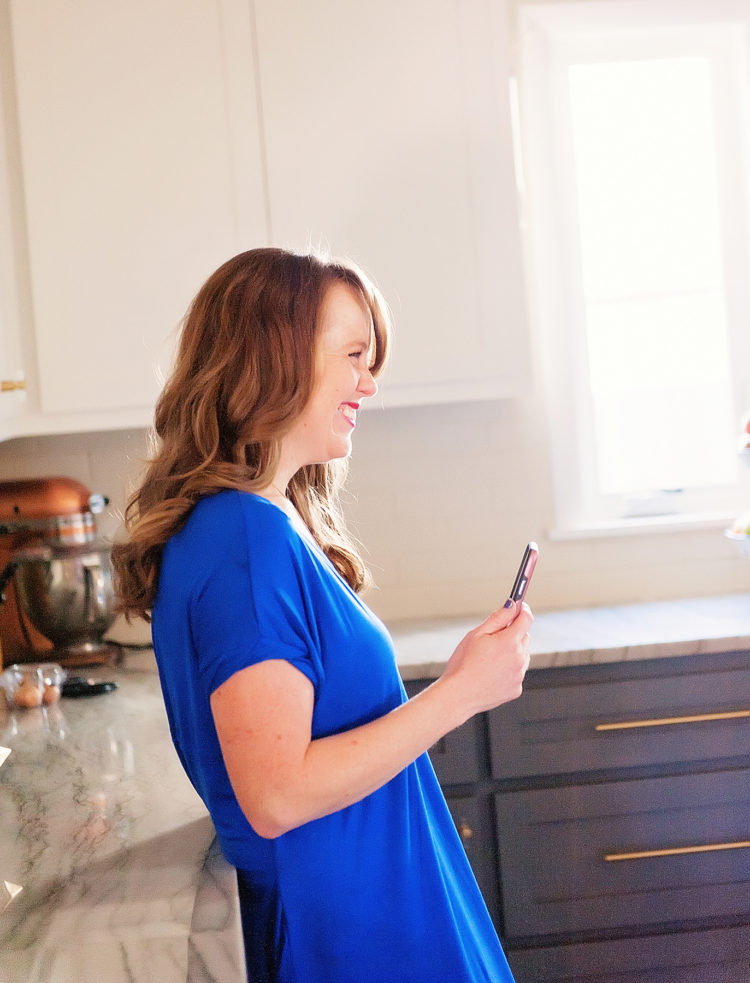 I'm in love with this fun blue maxi dress from Stash — and it's only $36!

This is just a fun one, no reading, homework or tracking required. With baby number one, I took all those weekly and monthly pictures right on time and remembered to use those cute little props I got at my baby shower. With baby number two, I didn't have those props anymore (where are they, even??) so I relied on this app to insert the cutest little graphics for whatever milestone we had reached.
Important: Have a Back-Up Plan!!

The most important thing to remember isn't a particular app. There are lots of services to choose from. The most popular are probably Google Photos or Prime Photos, but no matter what you choose you need something to back up all those pictures you take on your phone!
When Harris was around 15 months, he got my phone, entered the wrong password enough times that it disabled it. I lost absolutely everything, and I hadn't backed my phone up in SIX MONTHS. It made me physically ill — I felt like I had lost the past six months of his life! In the grand scheme of things, I can admit it wasn't the end of the world. But, it could've been very easily prevented had I just made sure I had a back-up plan. If you haven't already, get yours now!
Am I missing out on any great apps that you use? Please let me know!
Photo credit: Amanda Lassiter