I want to make a fun little sweet treat for my family for this weekend's festivities, and with our busy schedules (Saturday is going to be a looong day) it needed to be something quick and easy. I came up with these adorable and ridiculously simple meringues, and still had time to throw together a friend's recipe that adds a fun twist to an old classic using Lucky Charms. Yum!
If you want a holiday-themed dessert but are short on time, here are a few ideas you can whip up really easily.
5-Minute St. Patrick's Day Desserts
Mint Green Puppy Chow
I love the mint, so this St. Patrick's Day puppy chow recipe sounds absolutely divine. I can't get enough puppy chow when other people make it, but I've never attempted to make it myself because it seems super messy! But if you love mint, you'll love this festive puppy chow.
St. Patrick's Day Snack Mix
Snack mix is a great way to involve your toddler in the kitchen. Pull them up to the counter and let them pour each of the ingredients. My kid absolutely loves helping in the kitchen, and this is a safe and easy way to get him involved. Make it St. Patrick's themed by adding green M&Ms!
White Chocolate Meringues
Trader Joe's meringues are delicious, store bought perfection. They taste like an enormous version of the marshmallows in a box of Lucky Charms — aka my favorite cereal. I decided to take them to the next level by dipping them in white chocolate and holiday-themed sprinkles as a festive St. Patrick's Day treat. You can do this with any occasion! You're going to want to keep these meringues on hand.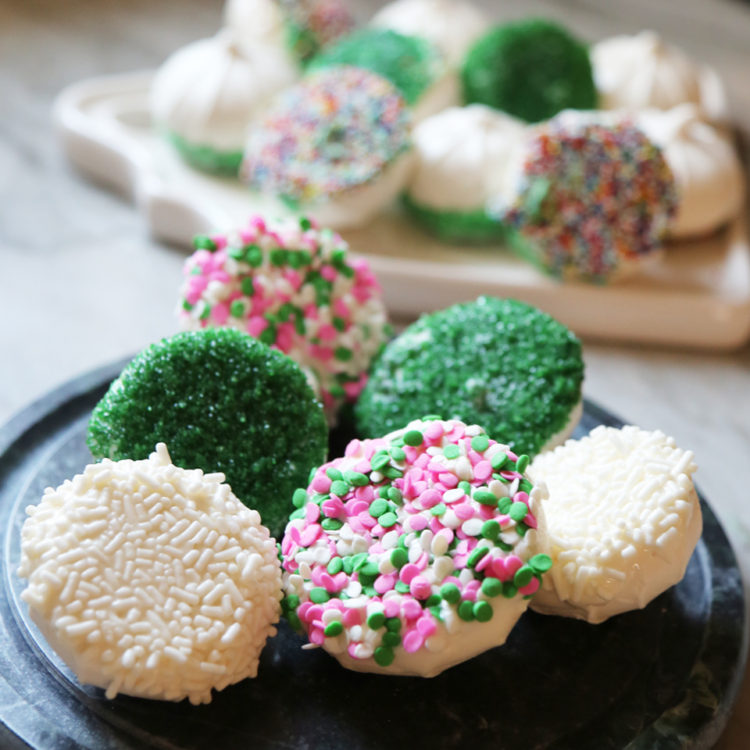 I simply melted white chocolate (or almond bark, whichever you prefer) and dipped the flat part of the meringue in it. Next, I dipped it in colorful sprinkles. It really is that easy. Also, if you have oil- or powder-based food coloring, you can dye the chocolate green for a super cute twist!
Lucky Charms Treats
Now that you know how I feel about Lucky Charms, you won't be surprised by these treats. My friend Katie over at Tulsa Details whipped up these Lucky Charm Treats (think: Rice Krispies treats but maybe even better?), and the minute I saw them I immediately went to the and bought the ingredients. Here's a fun fact: I have never made Rice Krispies treats! I mean, I've eaten them, but I've never liked them enough to make them. Substitute Lucky Charms? Yes, please!
Just like the original, all you do is melt butter and marshmallows and combine them with the cereal. I added a pinch of sea salt on top because I love salty + sweet. These really are magically delicious!
Lucky Charms Treats Recipe
Lucky Charm Treats
Ingredients
3

tablespoons

butter

1

package

10 oz., about 40 JET-PUFFED Marshmallows

6

cups

Lucky Charms cereal
Instructions
In large saucepan melt butter over low heat. Add marshmallows and stir until completely melted. Remove from heat.

Stir in Lucky Charms cereal until well coated.

Using a buttered spatula (or wax paper) press mixture into a 13 x 9 x 2-inch pan coated with cooking spray. Allow to cool, then cut into 2-inch squares.

Best if served the same day.
Have you seen any other super quick, but adorable, desserts I need to try?