Update: These sweet and spicy baked pecans are the PERFECT addition to your (or any) charcuterie board!
This recipe for sweet and spicy baked pecans is inspired by my mom. She's been making them for years, and all of her friends and family couldn't be happier about it. For the record, I like to call them "Naughty & Nice Nuts" because it makes me laugh every time, but if you're looking for something a little more G-rated, you can just go with "Party Pecans"
I actually have no idea where this recipe came from originally, but I am so thrilled to share with you because you're going to be absolutely smitten. Seriously everyone who tries these pecans immediately demands the recipe. Get ready to pass it along when you serve them at your next party! And prepare yourself, because you won't believe how fast they'll be devoured. If pecans weren't so expensive I'd probably just keep a bowl on hand at all times!
No matter what you decide to call them, you are going to love how delicious, light and airy these pecans are. You can make them ahead and store them in your refrigerator for up to three days. This makes them not only a crowd favorite, but a host's favorite — extra points for efficiency!
Please let me know if you give these party pecans a try at your next soirée!
Sweet and Spicy Baked Pecans Recipe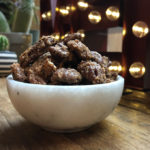 Print Recipe
Sweet & Spicy Baked Pecans
Instructions
Whisk egg white in a medium bowl until frothy. Add pecans and stir to coat with egg mixture.

In a separate bowl, combine the sugar and spices and shake until mixed well.

Pour sugar mixture over the pecans and stir until well coated.

Spread on a cookie sheet in a thin layer.

Bake at 325 for 30 minutes (stirring 1/2 way through baking time).

Let cool and serve or store.
If you make this recipe, I would especially love it if you gave it a star rating ★ and review below. And please make sure you follow me on Instagram, Facebook and Pinterest!