These blueberry buttermilk muffins are the perfect thing for breakfast or snack. And with no added sugar, you won't feel guilty having more than one!
Recently, one of my Instagram friends tagged me in a Muffin Challenge! With not much else going on since we've been sheltering in place, I thought it would be fun to create a delicious muffin with what I had on hand. I checked my fridge, and lo and behold, I had some buttermilk that needed to be used, as well as fresh blueberries. A perfect combination!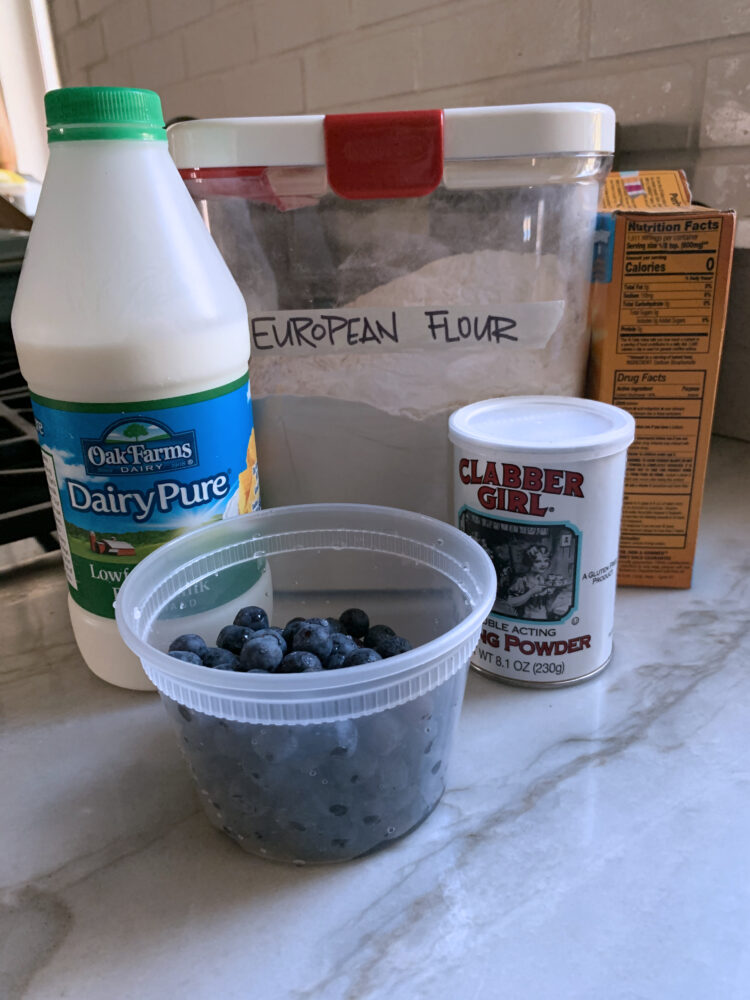 Why Buttermilk is Great for Baking
Buttermilk's acidity (like yogurt and sour cream), helps tenderize the gluten in flour giving baked goods a softer texture with more body.
If a recipe calls for baking soda, then you will definitely want to use buttermilk! Since baking soda is a leavening agent, it actually requires acidic ingredients to activate. (That's why these buttermilk pancakes are so fluffy and delicious!)
Don't Have Buttermilk? Make Your Own!
No need to worry if you don't keep buttermilk in your fridge (although now that you know how great it is, maybe you should?), you can actually make your own using a few common ingredients!
How to Make Homemade Buttermilk
1 cup milk
1 Tbsp white vinegar (or lemon juice)
Stir together and let stand for 5 minutes.
How to Make Homemade Dairy-Free Buttermilk
3/4 cup plain almond milk yogurt
1/4 cup almond milk
1/2 teaspoon white vinegar
Stir together and let stand for 5-10 minutes.
Muffins: Fresh vs. Frozen Blueberries
This is one time where frozen is actually better! When baking, frozen blueberries can be preferential since they help prevent the fruit from sinking and are less likely to burst during the cook-time. When you are cooking with blueberries, you can almost always replace fresh with frozen.
How to Serve the Muffins
Since there is no added sugar in the recipe, the sweetness of these muffins comes from the fruit itself. However, if you want the muffin to be a little more on the sweet side, I recommend serving them warmed with butter and drizzled with local honey. It's the perfect amount of natural sweetness!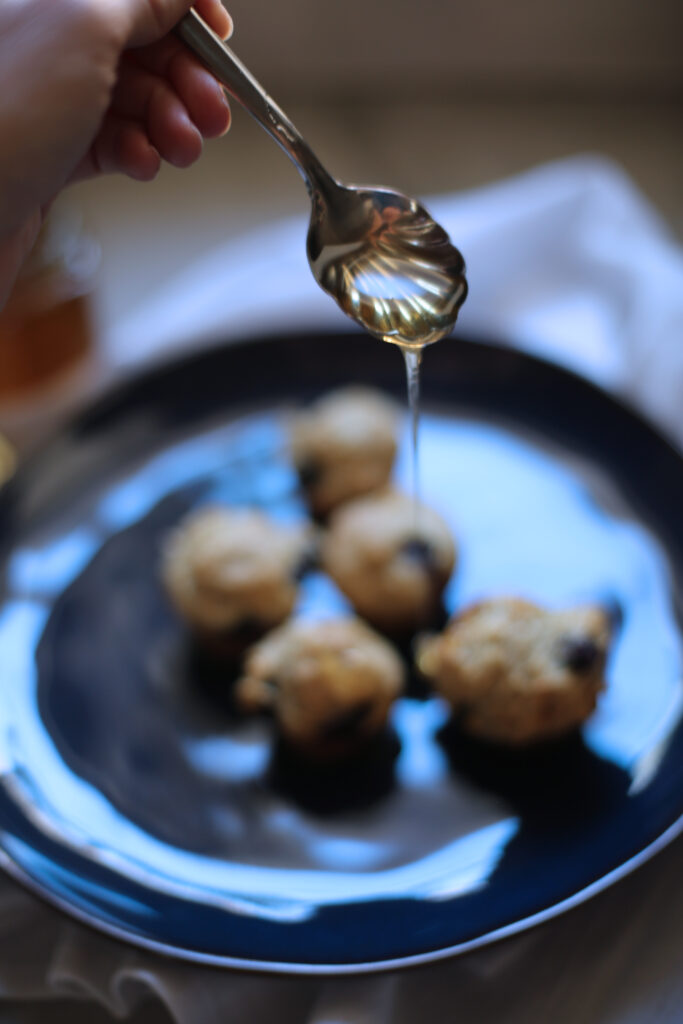 If you make this recipe, I would especially love it if you gave it a star rating ★ and review below. And please make sure you follow me on Instagram, Facebook and Pinterest!
Blueberry Buttermilk Muffins
No added sugar blueberry muffins made extra delicious with fresh blueberries and buttermilk.
Ingredients
2 1/2

cups

flour

1 1/2

tsp

baking powder

1/2

tsp

baking soda

1/4

tsp

salt

2

eggs

1

cup

buttermilk

1/2

stick

butter

slightly browned

2

cups

blueberries

1/2

cup

applesauce

unsweetened

1

tsp

vanilla
Instructions
Combine all dry ingredients in a large bowl.

Heat the butter in a small saucepan until foamy and slightly browned.

In a separate bowl, whisk together the eggs, buttermilk and browned butter.

Make a well in the center of the dry ingredients and add the liquid ingredients. Mix quickly, but don't overmix.

Place batter into muffin cups and bake for 12-15 minutes until golden brown.
Notes
I used a mini-muffin tin and it made approximately 40 muffins.