Confession: My family has pancakes every. single. week. To prevent boredom — if that's even possible with pancakes — I rotate several recipes throughout the month. The minute I tried this one for the perfect classic buttermilk pancakes, I haven't looked back. These are now in our rotation permanently.
If you weren't aware, buttermilk is magic in pancakes. It makes them fluff up, but retains that perfect texture. I did some very scientific research (read: I Googled it) and discovered it's the acid in the buttermilk reacting with the baking soda that gives them extreme fluffiness. Whatever it is, it works!
When I was a kid I used to be in charge of making pancakes on the weekends, and I took it very seriously. I would grab the Bisquick, add water, and get down to business making Mickey Mouse pancakes for my younger siblings. Once I realized how easy it was to make pancakes from scratch rather than use a store-bought mix (this does not include Trader Joe's pumpkin pancake mix of course), I made sure to always have the ingredients on hand.
You know what other fun pancake fact I've picked up along the way? That second round of pancakes is always better because the batter has had a chance to rest. My batter tends to become noticeably lighter after sitting for 5-10 minutes before cooking. If you have the time, let it rest while your griddle heats up. See if you notice the fluffy difference!
Take my advice and don't wait for the weekend to make these delicious buttermilk pancakes. Even better — surprise your family with breakfast for dinner and you'll be an even bigger hero than you already are!
Buttermilk Pancakes Recipe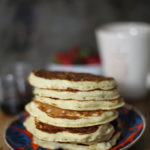 Print Recipe
Classic Buttermilk Pancakes
Ingredients
2

cups

all purpose flour

2

Tbsp

granulated sugar

2

tsp

baking powder

1

tsp

baking soda

3/4

tsp

salt

2

large eggs

2 1/2

cups

buttermilk

4

Tbsp

unsalted butter

melted

maple syrup

for serving
Instructions
In a large bowl, whisk together the flour, sugar, baking powder, baking soda, and salt. Create a well in the middle of the mixture and set bowl aside.

In a separate large bowl, whisk the eggs. Add the buttermilk and the melted butter and stir to combine.

Pour the liquid into the dry mixture and stir softly until just combined. Don't over mix and know that lumps are okay. Set aside for 5 minutes while your griddle preheats.

Preheat your griddle or pan over medium-low heat.

Using a 1/3 cup measuring cup, pour the mixture onto the griddle in batches. When pancakes have bubbled up, flip and cook another 2-3 minutes. 

Serve with warm maple syrup.