My kid is obsessed with this pear apple sauce. Actually, he's obsessed with all apple sauce, but especially this recipe. I used to go to the store and buy those handy little pouches — you know the ones I'm talking about. I do my best to buy the organic, no sugar added brands, but it can get get pricey, and honestly it just makes me feel better knowing I made it myself. Especially now that he's eating more and more, not to mention little brother is getting in on the action, too.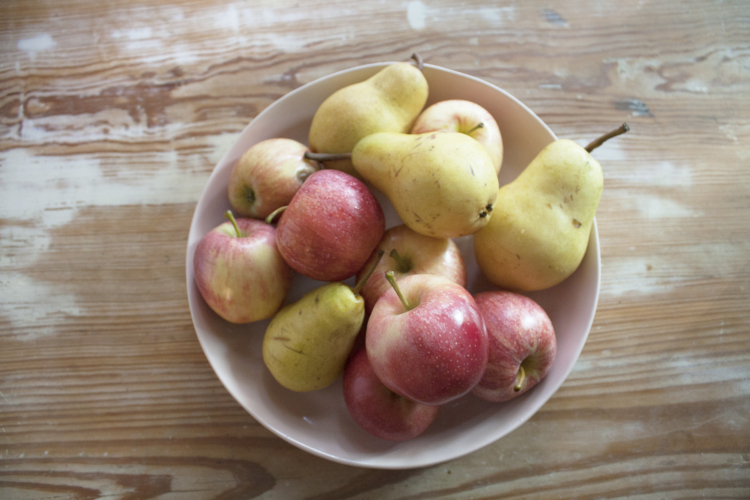 I'd seen some apple sauce recipes using the Instant Pot so I thought I'd give it a try myself. But instead of just using apples, I decided to throw in some pears, too. The result was even better than I expected! The combination of pears and apples made for a perfectly sweet — but not overly sugary — combination.
One of the best parts of making it yourself is knowing you're using quality products. Buy organic and give them a soak in an apple cider vinegar mixture (2 Tbsp + 8 cups of water), then rinse thoroughly. Slice the fruit using an apple slicer (you don't even need to peel) and toss them in the instant pot with a cinnamon stick and 1/4 cup of water. It really is that easy!
As for storing the applesauce, you can choose jars or you can put it in reusable pouches. I even threw some 1-cup portions in the freezer for future snacks or as a substitute for oil in baking.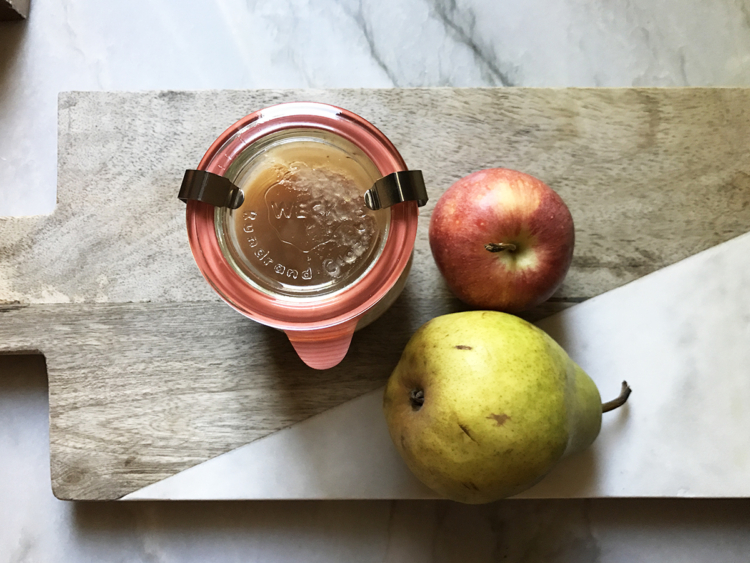 I'm not sure this will be the new norm, but now that I know how easy and delicious the pear apple sauce was, I'll definitely be making it more often.
Bonus — if you're counting Weight Watchers points this recipe is ZERO. Total loophole!
Pear Apple Sauce Recipe
Print Recipe
Quick and Easy Apple Pear Sauce
Ingredients
3

pounds

organic apples & pears

sliced

1

cinnamon stick

1/4

cups

water
Instructions
Place apples, pears, cinnamon stick and water into the pressure cooker.

Cook on high pressure for 5 minutes.

Turn off the heat and let it naturally release (10-15 minutes). Carefully remove lid.

Remove cinnamon stick and blend with an immersion blender until smooth.

Package in jars, pouches or ziplocks.