I kind of gave you guys a run down on this "Stir Crazy Salad" in my Emergency Meals post a few months ago, but there were so many responses and questions I thought it deserved its own time to shine here on the blog.
Think of this as a kitchen sink salad, because it contains everything but the kitchen sink! I started making it years ago when I'd have my girlfriends over for casual night of homemade pizza and salad. Salad is a great way to stretch a meal and a budget.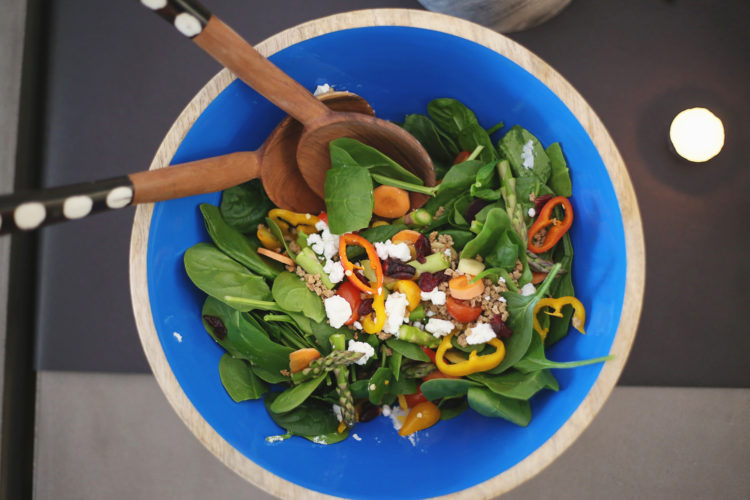 I am sometimes more ambitious at the grocery store when I'm anticipating how many fruits and veggies my family will eat this week — just to have to toss them out. The beauty of this salad is, you look in the fridge and throw in what you have. Get rid of those extra goodies in your fridge, clean out your conscious, and have a healthy meal to boot. Dinner victory!
I'll share the recipe for my exact salad below — along with a list of my favorite add-ins — but please take full creative license and go nuts with your own ideas! Just don't forget to share them with all of us. 🙂
Ideas For Your Own Custom Stir Crazy Salad
First, you want to create your base. Grab your favorite greens! Mine is spinach, but there's no wrong answer here. Then, you top with anything you can imagine. Some of my go to's (probably because they're always in my fridge) are:
• Apples
• Grapenuts (trust me)
• Goat cheese
• Craisins
• Edamame
• Carrots
• Fresh green beans
• Mandarin oranges
• Toasted slivered almonds (or pecans or walnuts — you get the idea)
• Tomatoes
• Bell peppers
Toss the whole thing together and top with your favorite vinaigrette. You can get my favorite dressing recipe here.
If you (or a loved one) are one of those people who think salad can't possibly be an entire meal, I present to you the Stir Crazy Salad. Add a protein of your choice — or not — and you'll be more than satisfied, I promise! When you create your own salad at home, be sure and tag me in your pics!
The Original Stir Crazy Salad
My Stir Crazy Salad
Ingredients
1

bag baby spinach

1

small

organic apple, diced

1/4

cup

Grapenuts

trust me

1/4

cup

Goat cheese

1/3

cup

Craisins

1/3

cup

carrots

sliced

1/3

cup

asparagus

1-inch slices

1/4

cup

toasted slivered almonds
Instructions
Layer all ingredients and top with my Red Onion Vinaigrette.

Toss & serve.
Notes
Other add-in suggestions:  edamame, fresh green beans, mandarin oranges, tomatoes, bell peppers
Photo by Sarah Baker