Last year I read an article about the horrors of plastic straws and their impact on the environment. I'm ashamed to admit that I never considered my straw habit as harmful until then. I always asked for straws at restaurants and used them at home constantly. I recycle religiously, and I even started composting a couple of years ago, so I'm not sure how I wore blinders when it came to plastic straws.
I made it my personal mission to avoid using single-use straws, and I'm so glad this issue has become such a widespread topic in 2018! I shared an infographic on facebook with some statistics so I could spread awareness and hold myself accountable with my new goal. It was refreshing to hear from friends and family about similar goals and even recommendations, tips, and tricks. In fact, so many people were interested in the topic I thought I should bring the conversation over here!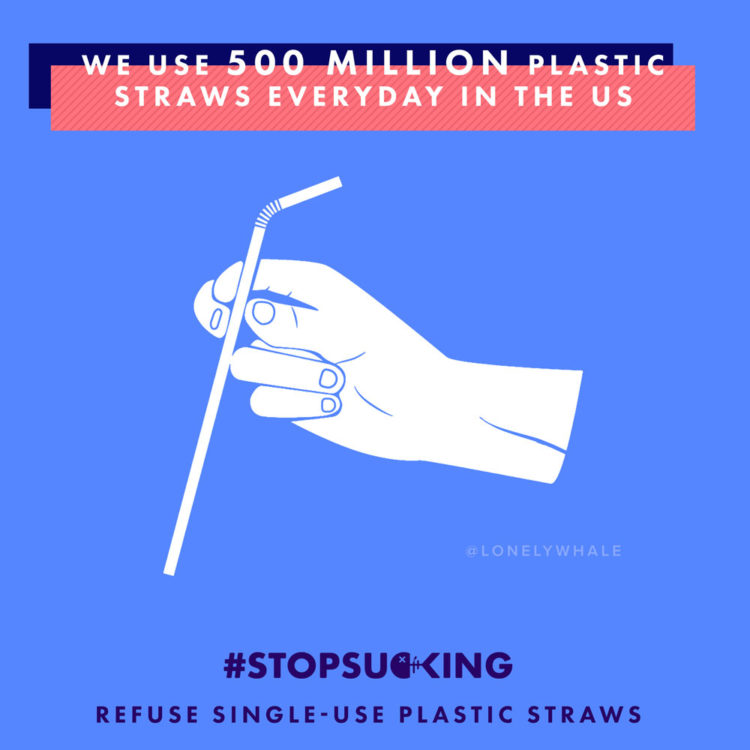 I recently saw Adrian Grenier's campaign, #stopsucking. The most eye-opening statistic for me is this:
Every single plastic product ever created still exists today.
Just think about that for a second. Imagine all of the plastic you personally have touched in your life, and consider the environmental impact of each and every piece. Like I said, I'm a crazy recycler, but plastic straws aren't easy to recycle. They aren't big enough for the sorting machines, so they ultimately end up in landfills or oceans.
I now use a variety of reusable straws at home. Silicon and stainless steel have been my go to materials so far, but I've heard of glass and bamboo which seem even more environmentally friendly.
Out at restaurants, I simply say,"No straw, please," when ordering a drink. I've even rubbed off on my husband, who recently told me he reached for a lid and a straw but decided against it since they are both made of plastic!
Hopefully these little changes can positively impact the environment little by little. And if we all make the choice, who knows — maybe we can significantly reduce the plastic straw waste!
Have you tried giving up single-use straws? Join me in my mission to #stopsucking! Tag me if you give 'em up for good. 🙂
Photo by Sarah Baker