Here's why you should make these prosciutto-wrapped green beans: they're fast, they're easy, and everyone from 1 to 92 will go nuts for them. I think they add extra pizzazz to a plate, as well. You seriously can't go wrong!
I'll confess that I don't love green beans. Specifically, I don't like cooked green beans. Something about the mushy texture just gives me the heebies! However, I do love fresh green beans when thrown in stir fry or salads. And I absolutely love them wrapped in prosciutto. Who doesn't love anything wrapped in prosciutto?! I mean, it works for asparagus, so why not green beans?
I use hericot verts because they are a typically smaller than green beans and have a softer casing, making them quicker to cook. And they're always in stock and fresh looking at Trader Joe's.
This really isn't a recipe so much as a "how to." It's too easy to even call it a recipe!
1. Lay the prosciutto flat on a clean, dry surface.
2. Grab a handful (about 5-6) of the hericot verts and roll them up with the prosciutto.
3. Lay them on a baking sheet being careful not to get them too close together.
4. Bake at 400° for 8-10 minutes.
The prosciutto gets crispy, while the beans get tender yet crunchy! Super easy. Super delicious. The magic of this "not recipe" is that in basically no time at all, you have a side dish that is beautiful enough to wow everyone at the table and you don't have to put any effort into it. Minimal input for maximum results!
Please enjoy this video tutorial of me rolling the green beans in prosciutto.
Prosciutto-Wrapped Green Beans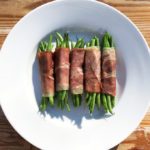 Print Recipe
Prosciutto Wrapped Green Beans
Ingredients
1

package

hericot verts

1

package

prosciutto