Elevate your 4th of July game this year with one simple tool… star-shaped cookie cutters to create the cutest (& most delicious) star-spangled 4th of July treats!
Watch me on the News on 6
CLICK HERE TO WATCH ME ON THE NEWS
What you'll need
Star-Shaped Cookie Cutters
I got these star-shaped cookie cutters on Amazon and they worked perfectly. I loved that there are different sizes to create a little variety in all of these treats!

Skewers
For the watermelon sparklers, you'll need some skewers. If you don't already have some, you can grab them at your local grocery store or add these to your next Amazon purchase!

Star-Spangled Treats for the 4th of July
Watermelon Sparklers
This little treat is so simple, your littles will love to help you prep them (and eat them). A super easy way to get your kids involved in the kitchen is to let them use cookie cutters! No worries for mom or dad about them cutting themselves and they feel super involved since they get to do all the work.
Start by slicing your watermelon into 1″ slices. Lay the flat slices on a cutting board and cut out as many stars as you can. Save the remaining watermelon pieces for a delicious froze' or snacking.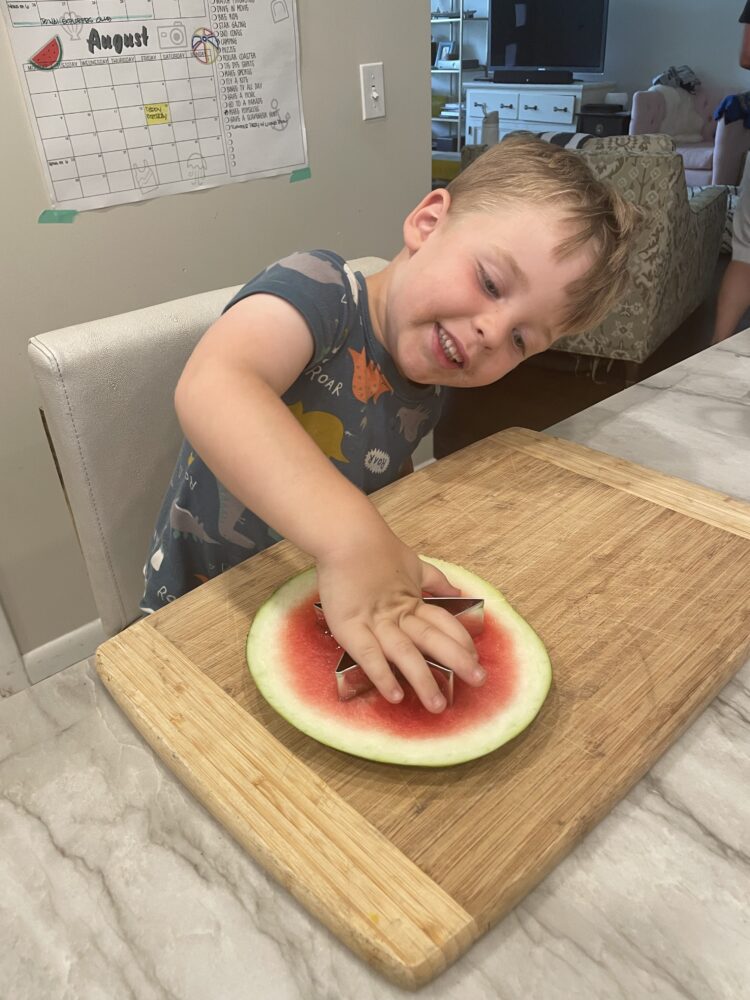 Layer the skewer with blueberries and top with the watermelon stars! Yes, it's really that easy!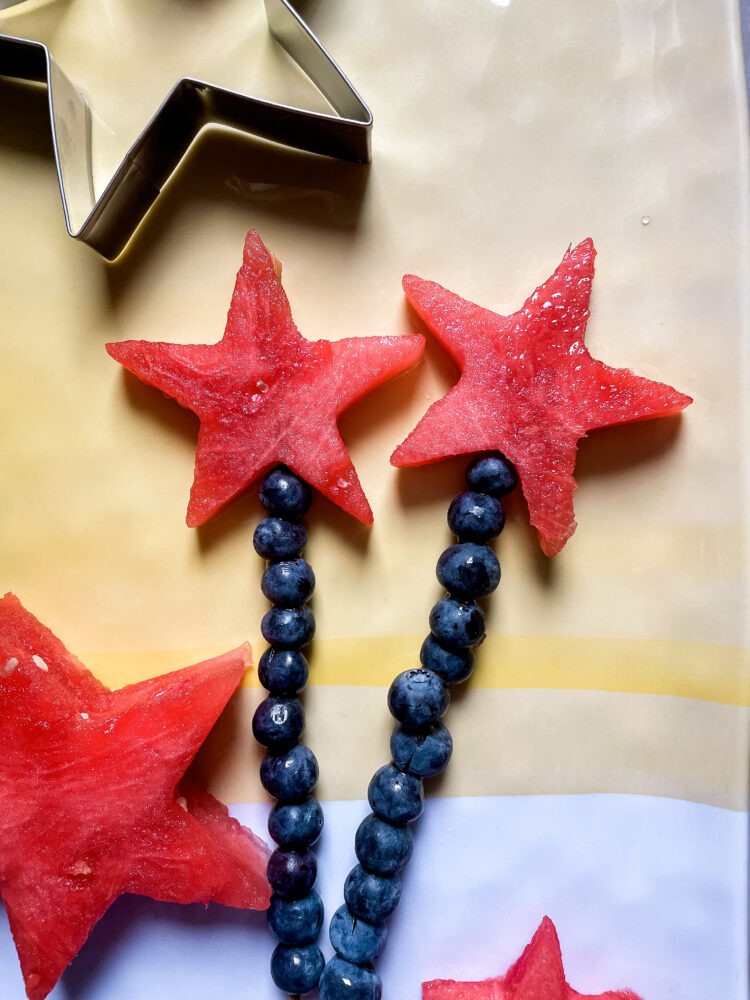 Star-Spangled Red-White-Blue Rice Krispie Treats
This may surprise you, but this is the VERY first time I've ever made rice krispie treats! To make them extra special for your July 4th celebration, simply add red and blue food coloring to 1/3 of the mixture and layer them in a 9×13 pan. Once you've let them cool and meld together for an hour or so, cut out your star shaped treats.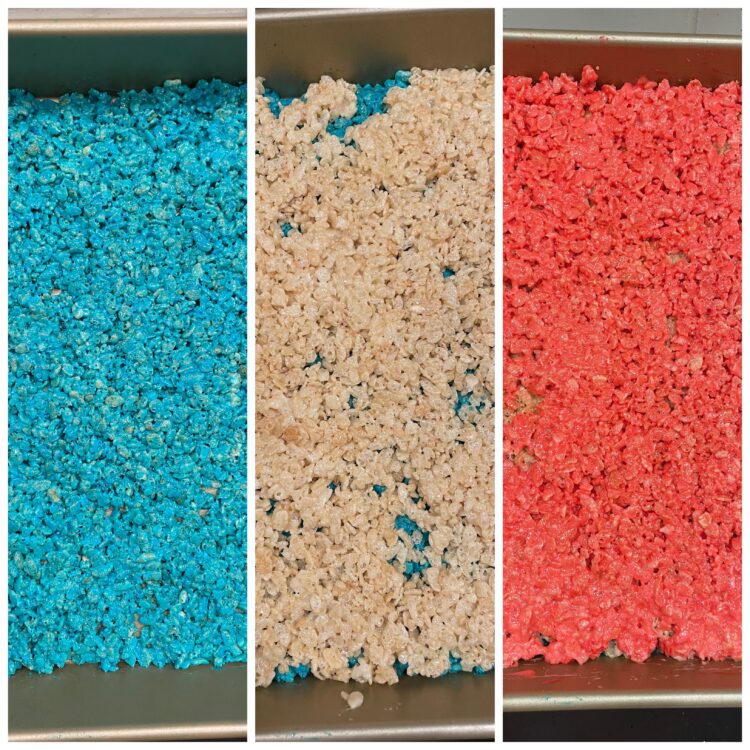 Star-Spangled Rice Krispie Treats
Make your rice krispies extra patriotic by layering red, white & blue! Take them to the next level by cutting them out with star-shaped cookie cutters. So cute!
Ingredients
8

Tbsp

butter

(1 stick)

2

Pkgs

10 oz. mini-marshmallows

9

cups

rice krispies cereal

red & blue food coloring
Instructions
In a large pan, melt butter and add marshmallows. Stirring until they're melted.

Separate marshmallow mixture into 3 separate bowls.

In the first, add blue food coloring and stir to combine. Add 3 cups of cereal and stir until sticky. Layer into a 9×13 pan, pressing until there are no gaps or holes. (See Note)

In the next bowl, add 3 cups of cereal. This will be the white layer, so no food coloring. Press on top of the blue layer. *Microwave the marshmallow mixture if it isn't pliable.

Last, add red food coloring to the marshmallow mixture (microwave if it has set up too much). Add 3 cups of cereal and combine. Press this layer on top of the white layer.

Let the rice krispies sit for at least an hour before cutting!
Notes
If you wet your hands with water before pressing, it helps the mixture not stick to your hands!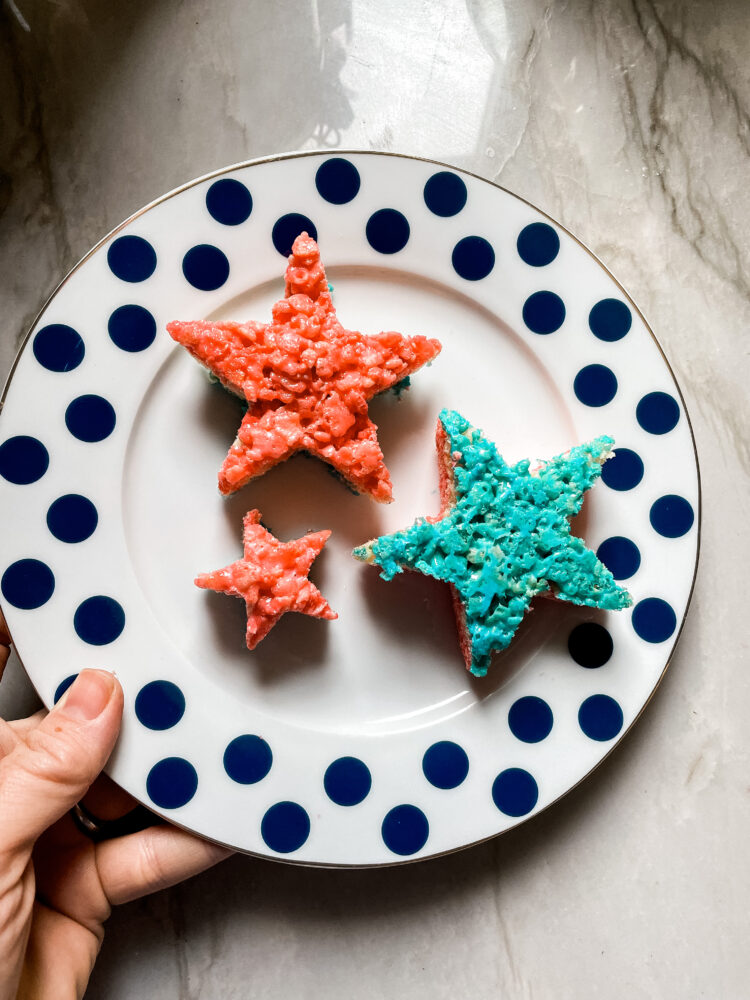 Star-Spangled Mini-Pies
Using all store-bought ingredients, these mini-pies come together super quick but they look so festive no one has to know! Start with pie crust rolled out flat and cut medium to large stars. Top with a tiny bit (1 tsp) of pie filling. I chose cherry and blueberry to keep it with the red, white & blue theme. Next, top with another star and pinch the sides down to seal (you can use your fingers or a fork, whichever works). Bake and serve with whipped cream – everyone will love them!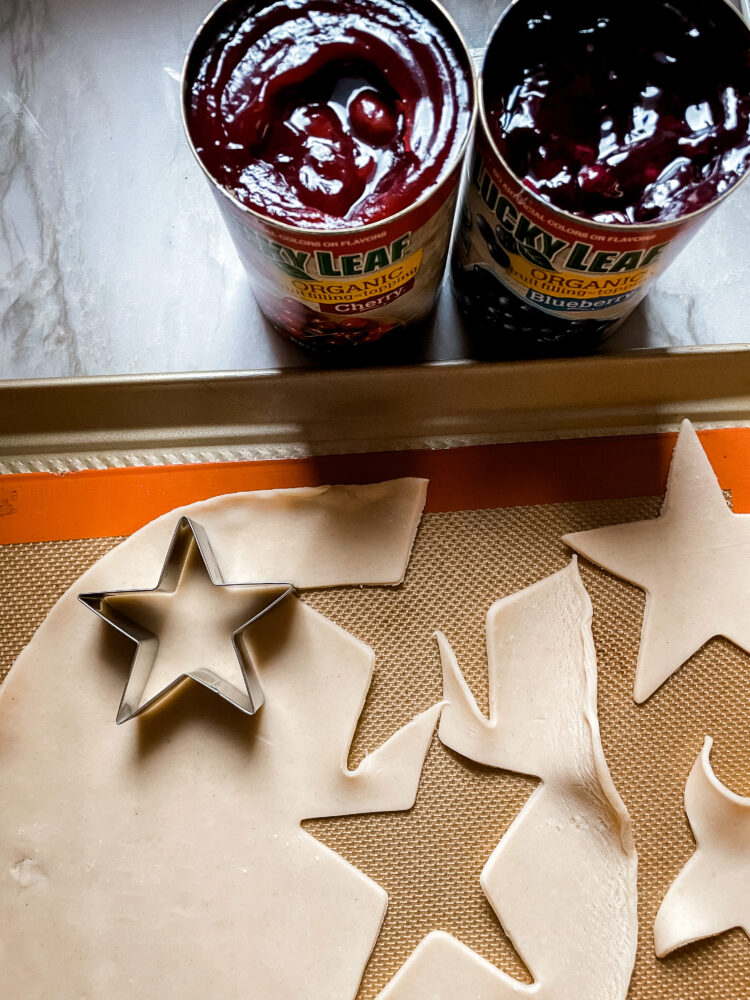 Star-Spangled Mini-Pies
These star-shaped mini pies will be the talk of the cookout! Serve them with whipped cream or on top of ice cream to make it extra sweet.
Ingredients
1

pkg

refrigerated pie crust

1

can

pie filling of your choice

2

Tbsp

milk

sugar for sprinkling

whipped cream or ice cream

optional
Instructions
Roll out pie crust and use star-shaped cookie cutters to cut out stars.

Top with a small about of pie filling (1/2 tsp) and place a star on top, pinching sides to seal.

Brush with milk and sprinkle sugar on top.

Bake for 20 minutes or until golden brown.

Serve with whipped cream or on top of ice cream.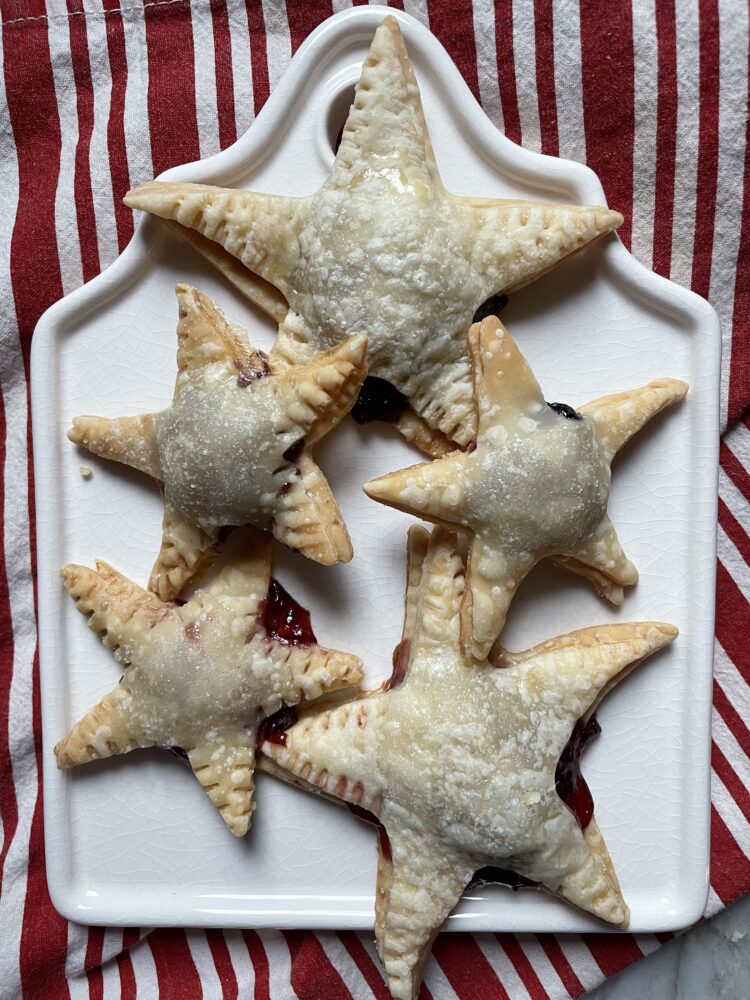 With these sweet treats you'll be sure to have the best 4th of July party yet! ENJOY!
If you make this recipe, I would especially love it if you gave it a star rating ★ and review below. And please make sure you follow me on Instagram, Facebook and Pinterest!