This fancy pizza combines sweet potatoes with the creamy deliciousness of brie cheese and a crunchy punch of red onions. Doesn't that combo make your mouth water already?? Prior to this, my experience with brie was limited to baked brie. After working with it to take this pizza to the next level, I now see brie as a versatile cheese that I will try to insert into more recipes in my future! Get ready for some future yums.
I first made this recipe as part of my Cookbook Club when we were testing the Real Simple cookbook. I love this cookbook — it's usually the first place I look when I'm needing some dinner inspiration. It is organized by seasons, which is so great, and all of the recipes are truly simple.
Here's my (and hopefully your) new favorite pizza recipe!
Sweet Potato, Onion, and Brie Flatbread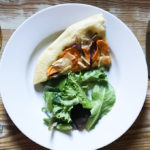 Print Recipe
Sweet Potato, Onion and Brie Flatbread
Instructions
Preheat oven to 425° F.

Press the dough into an oval on a pizza stone or baking sheet dusted with cornmeal.

In a bowl, toss the sweet potato, onions, oil, salt & pepper.

Spread the potato mixture over the dough and top generously with the sliced Brie.

Bake until the crust is golden, approximately 20 to 25 minutes.

Serve with a side salad.