Healthy choices are so complicated! On my best days, there is really nothing I love more than making healthy recipes for my family. But when life gets busy, it's so tempting to cave and opt for something like Pizza or Mac & Cheese. Is it just me?!
That's why having an arsenal of quick, healthy recipes that my whole family enjoys is the key to staying on track. Enter: Lemon Pepper Salmon. When I first heard about this recipe, I was skeptical. Finding a recipe that's fast, easy, healthy and delicious all at once is no small feat. But 15 minutes and three ingredients later, I was hooked. It's the perfect weeknight meal– and my whole family agreed! I couldn't believe it.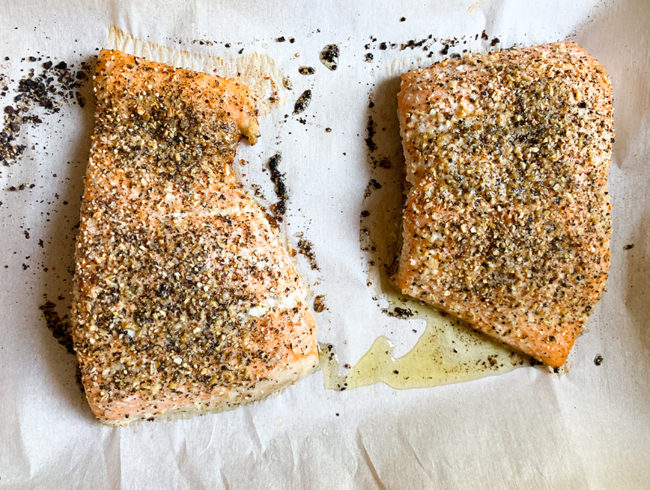 You can use any Lemon Pepper you have on hand for this recipe, but this one from Trader Joes is really perfect. The grinder is pretty coarse, which is great because it helps you form a sort of crust on the fish without over-doing it. It really makes for the perfect tangy, yummy bite. This recipe also pairs so well with other healthy options, like salad or roasted veggies, and is delicious on top of rice or quinoa.
That's it! Just about as easy as they come, and it's guaranteed to be a hit. Let me know what you think!
Lemon Pepper Salmon Recipe
Lemon Pepper Salmon
Ingredients
salmon filets

lemon pepper seasoning

olive oil
Instructions
Preheat oven to 400F.

Place salmon on parchment paper and drizzle with olive oil.

Season with lemon pepper - so much that it creates a crust of seasoning.

Bake for 12-14 minutes.